What is the difference between UI and UX?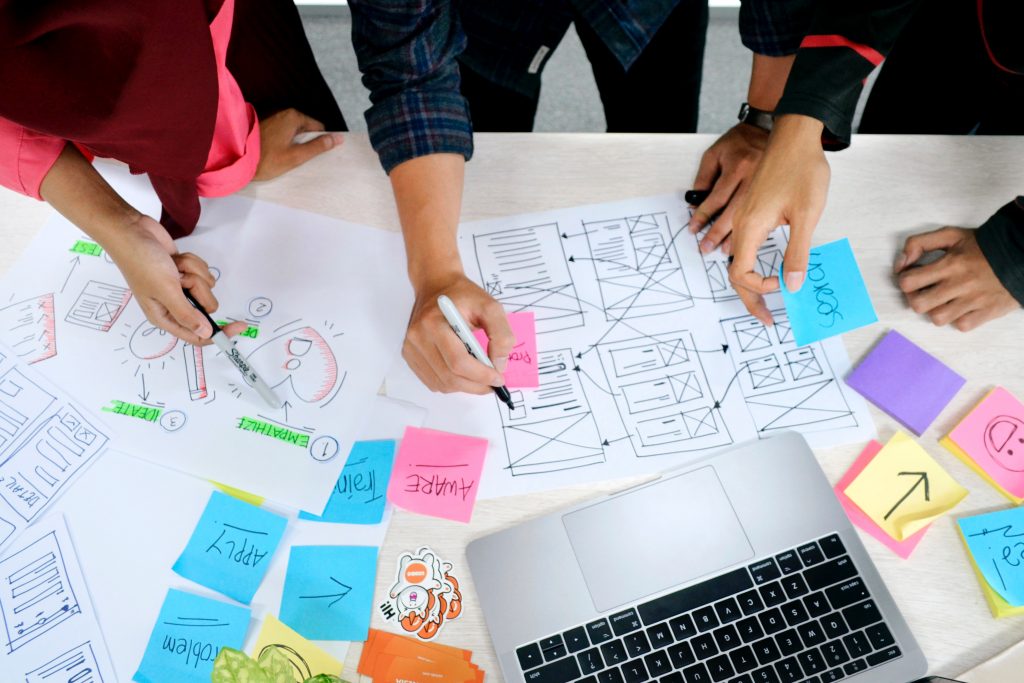 UI is how good the car looks, and UX is how good you feel driving it.
In order to describe the differences between UI and UX design, there are a lot of comparisons and alternative explanations. But, sometimes, it confuses more than bold academical definition. So, in this article, we would like to provide a simple and practical explanation of the difference between UI UX and find out what impact has good UX and UI on business success.
1. What is UI/UX design all about?
Usually, UI/UX design is applied together and may seem to describe one thing. However, as it is hard to find one clear description of what those two stand for, let's take a look at the facts. Did you know that web designers have about 50 milliseconds (0.05 seconds) to make a first impression on users? In that short eyeblink, the users decide whether they would stay on your website or not and is your business creditable.
What does it mean? How do users evaluate the credibility of a website in 50 milliseconds? Is it enough time to interact with the site and analyze it? Of course not. Here works a superpower of professional UX designers and UI designers. They know what captures users' attention first, then how to lead them forward and convert them into customers by using web design.
Despite the difference between UI & UX, it is all about designing the online presentation, presence, and development of a product or services. Each contributes different elements to the website design, which moves customers through the sales funnel. Therefore, UX and UI developers complement each other and create web designs that hit the targets.
We must keep in mind that a website is much more than codes and pages connected by links. A website or an app is a place where a company and a client meet, communicate, and affect each other. Such interaction creates customer experiences. There is a difference between UI designers and UX designers, but both of them empathize with users, defining user pain points and ensuring that the experience is as good as it could possibly be.
2. What is UI?
First, let's clarify what is UI design and why is it so important. UI (User Interface) works with the visual part of web design. The primary goal of the UI designer's job is to make perfect aesthetics of the website. It includes structure between elements, buttons, color palettes, appropriate contrast for usability, font pairings, images, icons, illustration design, forms, and other visual elements. Furthermore, the UI designer ensures that the interface looks good on all devices.
Basically, UI designers create an intuitive and easy-to-follow interface. Here helps typography. Typography is the art of arranging letters and text that visually appeals to the reader. It is a key to readability. Readability works as a powerful tool to engage the users when they scan your landing page for the first few seconds.
3. What makes a good UI design?
The best UI design is when the user doesn't even notice it. Qualified UI designer combines interaction design, visual design, and information architecture concepts in one interface.
interaction design – users' behavior and interaction with the system
visual design – focuses on the esthetic of a site
information architecture – organizing content, formation, structuring, and labeling
UI developers should anticipate what users might need to do and ensure that all interface elements are easy to access. The most critical factors that show us that UI is done well are: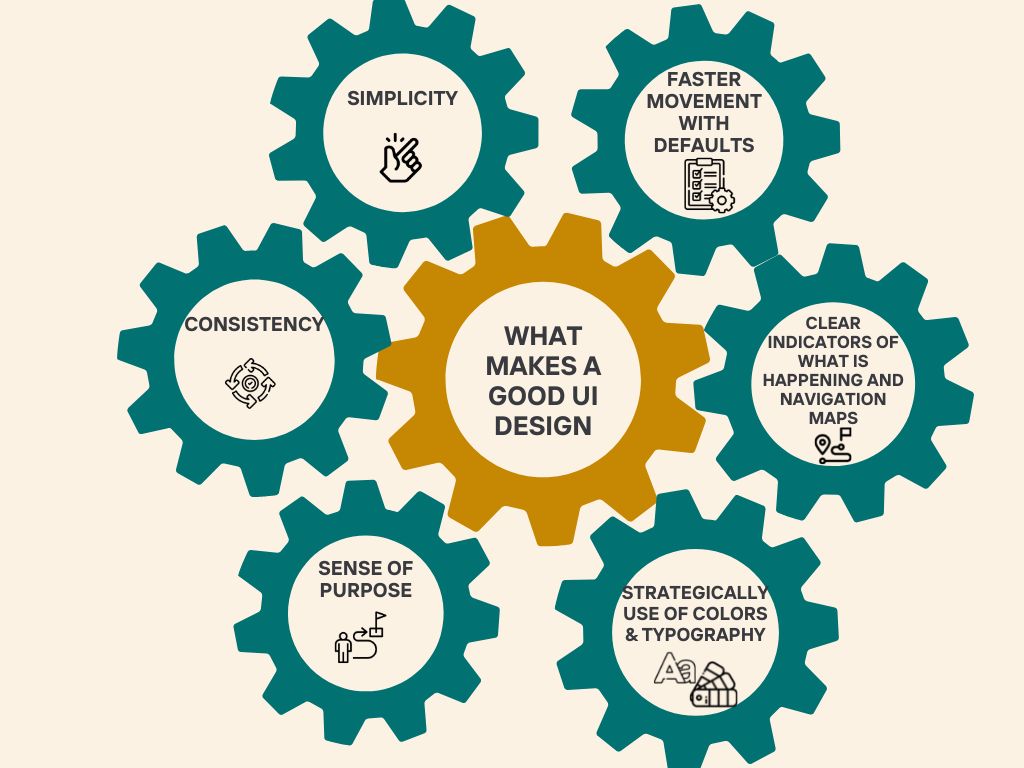 Simplicity. Interfaces without unnecessary details, clear language on labels and messages.
Consistency. Usage of common elements which provide quick and comfortable interaction. It also includes creating language, layout, and design patterns throughout the site to facilitate efficiency. It means that when a user learns how to do something at the beginning, they should be able to use that skill in other parts of the site. For example, the button BUY on one page of your site should look the same on any other page.
Sense of purpose. Ensuring that the structure of the page is based on importance. UI designer draws users' attention to the most important pieces of information on the page with the help of rational placement of items. As a result, it boosts scanning as well as readability.
Strategically use of colors & typography. UI designer ensures that everything a user sees is presenting the brand. The interface's look should show the brand's identity but never distract users from completing the task.
Clear indicators of what is happening and navigation maps. In other words, users should always be informed where they are, where they came from, and where they can go. Visible cues about the status, next steps, location, actions, or errors. In addition, activities should be reversible. It makes every step transparent, and the user fills complete control over his actions. This is the way to build good communication and trust with users.
Faster movement with defaults. Users can easily be annoyed by any information entry, mainly when they have already provided it. By carefully thinking and anticipating the targets, good UI should create defaults that would minimize the way complete users' tasks. For example, a website might have some pre-chosen fields, ready to choose or filled out. Therefore, good UI completes maximum work while demanding minimal user information.
The user interface is an essential part of any software product. When it is done well, users from the first seconds are involved in a process and intuitively understand what needs to do next. However, the design industry constantly evolves and changes quickly. Good UI design should follow current UI trends. It is not just about making a website design more attractive to users but it also opens new possibilities. As a result, you receive loyal customers who generally perceive your product as better than any other. But User Interface design is only a small part of User Experience design.
4. What is UX?
Now, let's make it clear what is UX and why is it important. User Experience defines how well the user can navigate the product, how easy it is to use, how relevant the content is, etc. UX is a process that concentrates on functionality and analysis. The UX designer creates an accessible and enjoyable user journey through the product and prevents all interaction difficulties with the interface.
Generally, a UX designer's work involves researching, brainstorming, implementing, and reporting.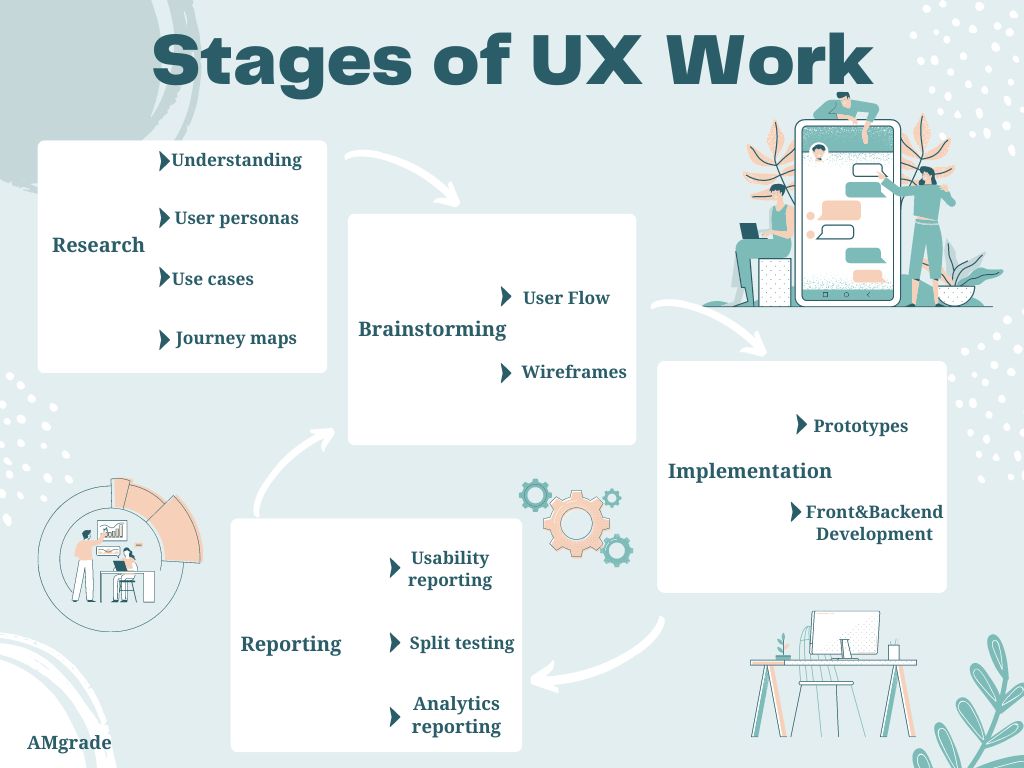 Research
UX research is an analytical process that creates understanding and direction toward achieving goals before designing and implementing solutions. At this stage, UX designers have to form understanding, create user personas, identify use cases and then build journey maps.
Understanding. Here UX designer is conducting user interviews to identify their requirements.
User personas. Representation of your typical user. Identifying users' needs and goals, frustrations, motivations, etc.
Use cases. Write a description of how different people might use a product and perform tasks on your website.
Journey maps. Visualization of the process that users go through from start to finish. UX designers use them to show the most common user experience over a timeline and visualize many dimensions, factors, and subtasks.
Brainstorming
At this stage, UX starts laying out the problem, identifying the objectives of a possible solution, and generating solutions.
User Flow. A chart or diagram that outlines the path a user might take in an application to complete a task.
Wireframes. A rough skeleton, the low-fidelity presentation of different screens and pages that form a product and make up the UI.
Implementation
Prototypes. UI designers create low or high-fidelity first examples to test a concept and a process.
Front&Backend Development. Once prototypes are approved, developers make the prototype of a working product.
Reporting
Usability reporting. Observe how users interact and use the product through a variety of means. It helps to gain a deeper understanding of our audience's needs and frustrations.
Split testing. A/B testing the effectiveness of one design iteration over another to see which strategy performs best.
Analytics reporting. Summarizing and organizing data, additional insights such as time spent on pages, bounce rates, the number of clicks to complete the task, rethinking visual design to aid usability and accessibility, and more.
At this stage, the UX designer might come back to brainstorming and continue work on improving the interface and cooperation with the UI designer. "Design is never finished!" UX design is a continuous process that uncovers new insights. As a result, UX and UI designers may rethink their decisions. UX can revisit and repeat certain steps in the design process to optimize and improve their work.
Good looking user interface without a clear understanding of your users, their goals, and ways of interaction don't make any sense. The work of UX designers encourages deep understanding, learning, testing, and iterating with users and incorporates user experience feedback.
5. What makes a good UX design?
A good UX design is based on simplicity and human-centered design. It focuses on people and their needs, creating things that are easy to use and appropriate for them. Google is one of the best examples, and since 1998, keeps that approach. Just type in what you want to know, enter, and here you have. Those two basic principles have many features that make a statement of a good UX design.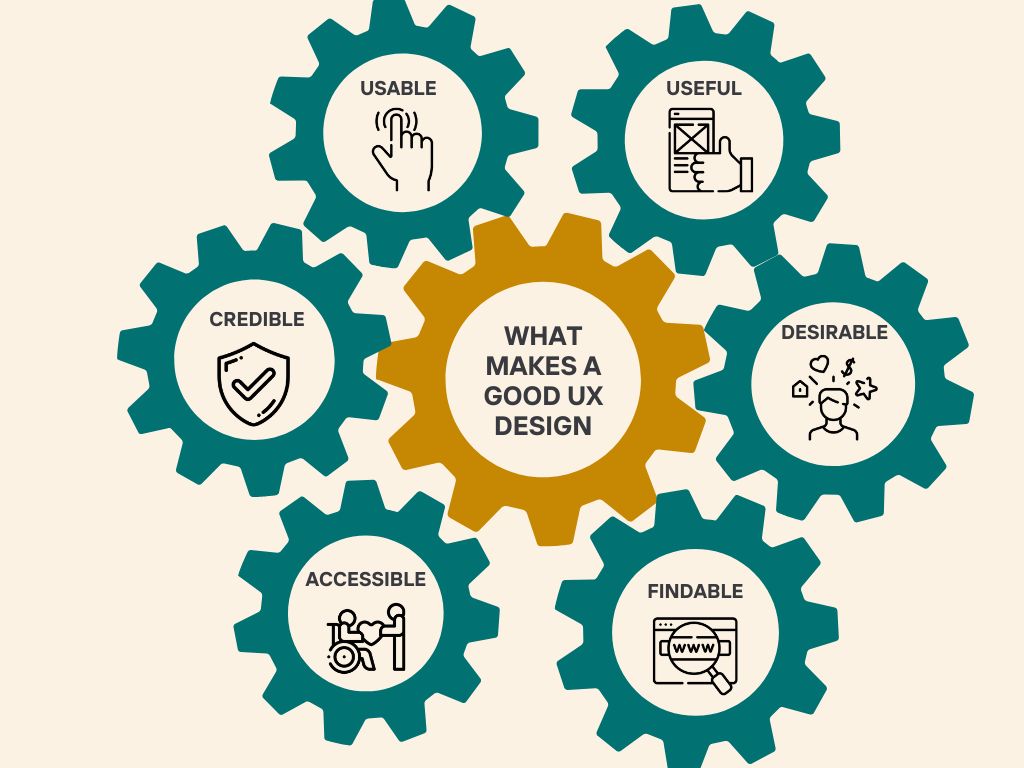 Usable. The interface is easy to use, has intuitive navigation, helpful customization, efficiency, and quick and easy-to-learn patterns. Good UX design should have easy manipulation, simple steps (the minimal number of clicks to complete the task), and clear navigation (users are not lost, they always know where they are and how to get back). If we are talking about the number of clicks to reach the goal, we in AMgrade try always to follow the rule that it should be three clicks to complete the task. Simple and efficient user interaction.
Useful. Everything that is created meets your customers' needs and wishes. Users should feel that the information is valuable and solves their problems.
Desirable. The style must evoke positive emotions and appreciation. The image, corporate identity, brand, and other design elements should make the user happy.
Findable. Content needs to be locatable and navigable both on and off the site.
Accessible. The site or app must be accessible to people with disabilities.
Credible. Users need to believe your brand and have faith that the product will do as promised. A poor UX reduces brand trust. In addition, UX design should ensure that users feel safe and secure. This includes trustful information, privacy policies, no technical errors, no spammy pop-ups, and reliable online reviews.
Good UX design is crucial to everything. It makes the latest technology accessible, creates easy-to-use apps and websites, and builds products that have an impact on our day-to-day lives. The UX design process lends itself to creativity and experimentation, so it is normal that designers should follow the latest UX trends. New 2022 UX trends offer the ultimate way to solve a specific user problem and give a huge business advantage.
6. Difference between UI and UX design
We described what UI and UX design are their key points, and the whole work process in each of them. Now it is much easier to define the difference between user interface design and user experience design. The most important thing it needs to know is that UI is a part of the UX process. Does it mean that UX is UI designer? No. UX is not UI.
Both of them are designing what we are using, but one is responsible for User Experience and the other one for User Interface. Use Experience is responsible for how you feel, what you need, and what are your motivations and frustrations. The interface is a particular thing you interact with one or more times to achieve something. An Experience involves so many things: the environment, how you feel in it, and all the different ways you can interact. The interface is a tangible thing you interact with to achieve the result. In this picture, we can compare UI and UX.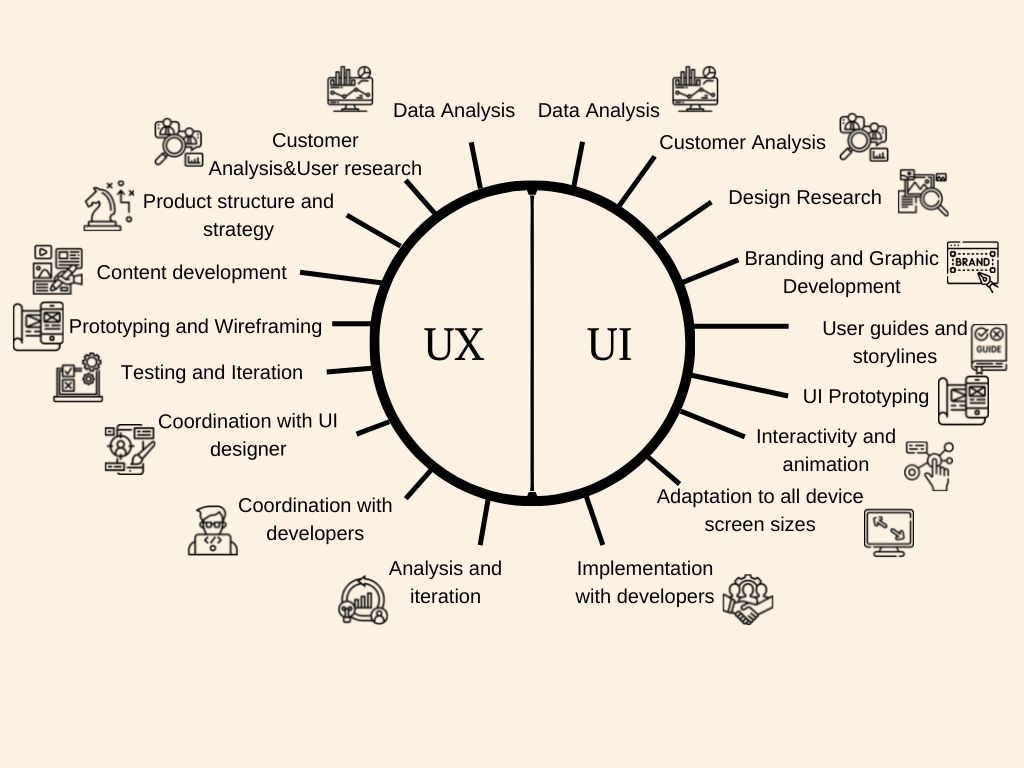 Let's imagine a situation to understand how UX and UI differ. You want to order food delivery through your new app. The food looks great, has a nice price, and the app has simple, intuitive navigation (UI). You start to order with a hangry smile, but the app loads slowly; you have to click through numerous screens: create an account, then choose an address, then receive a discount, then select a payment method, then get back because you forgot to write down that you hate onions, you want the dish without it. Irritating right? You will likely not use this app, no matter how good-looking it is at first sight. A UX designer's main task is to make a valuable, simply usable, and enjoyable user interface. Empathy and a human-centric approach are all that UX is thinking about.
On the other hand, imagine a website or application full of excellent food ordering solutions organized logically and intuitively (UX). But if it looks outdated or you can't quickly and easily figure out how to move between screens or scroll through options, you probably won't waste your time and click away.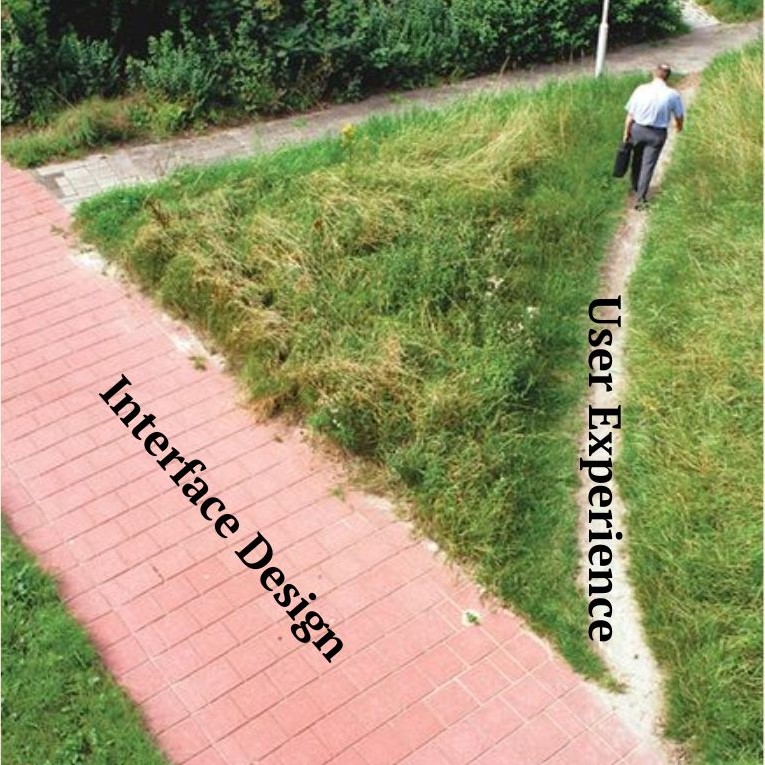 So, an intuitive UI design brings in easy-to-use interfaces and generates clear visual guidelines. As a result, it minimizes user pain points and increases business conversion rates. Furthermore, UX design focuses on the user's needs and intentions that make an app or website engaging to use. Thus it helps businesses to improve customers buying journey and make it easier to reach their goals.
Generally, UX and UI are tightly connected; you can't have one without the other. However, each has its role, tasks, and separate processes.
7. The impact of good UI&UX Design on a business
Regardless of the definition and separation of UI and UX roles, they both have the same goal. Together they create appealing interfaces and ensure customer satisfaction, ultimately helping increase the app's number of users.
Wheater is it a business with a long history, a small business, or a startup, the importance of UI and UX design become crucial. Design and user experience can affect customer acquisition, engagement, and churn rate. The first customer's impressions are 94% design-related due to Invision research. So, it's clear that UI and UX design can make or break brand recognition.
The great UI and UX ultimately impact users' emotions, engagement, and conversion. As a result, it enhances your brand's reputation, increases the number of consumers you are getting on your website/application, and contributes to business growth. Here are a few facts that show the results of investment in UI and UX Design:
A better UI could raise your website's conversion rate by up to 200%, and a well-thought-out UX design brings up to 400% conversion rates.
Research shows that, on average, every $1 invested in UX brings $100 in return. That's an ROI of a whopping 9,900%.
8 in 10 customers are willing to pay more for a better user experience.
As you can see, the more a company invests in and focuses on design, the more revenue they get.
In a 2010 study in Switzerland, researchers gave 60 teenagers two simulations of mobile phones and asked them to do several typical tasks on them. Both mobiles were functionally identical, but one had a visually appealing design, and the other was garish. Predictably, the participants rated the nice-looking phone as more usable than the other one.
Furthermore, the appearance of the phone positively affected performance, leading to reduced task completion times for the attractive model. Thus, a visually appealing interface design helps users work faster and more efficiently also makes a product more valuable.
Airbnb, after investment in UX/UI design, transformed from a failing startup with revenue of $200 per week to a $10 billion business
General Electric Co. saved about $30 million after investing in a common software platform for the company. They built processes and tools that helped support the company's UX practices.
A furniture company, Continental Office, increased its website traffic by 103% and its new contacts by 645% when they decided to refresh its brand perception through engaging design.
To summarise, a great UX/UI design has strategic value for a company's success. A great user experience makes users happier, reduces development costs, raises up conversion rates, builds customer trust and loyalty. From a business perspective, this will boost sales and profits. Therefore, investing in UX & UI design services is a logical and profitable step in business development.If you need a customized solution for your new project, reach out to our team here at AMgrade. We'd be happy to create something unique on your website, that addresses all of your design needs Contact us.