Real Estate Website Design: 11 Hot Trends for 2023
Website design plays a crucial role in the real estate business. One of the main goals of the real estate website is to build trust since the purchase of the home or apartment is a significant investment for the client. The user has to trust the real estate agency and rely on the website as a tool to accomplish their goals. Therefore, a real estate website should be designed with a focus on lead conversion, automatization, and maximum usability.

Real estate website design has become more advanced since business owners find new ways to grab the user's attention and build effective communication online. Today, real estate website design trends continue to evolve and develop. We've compiled the checklist of web design trends to follow in 2023.

1. Full-screen video background
Full-screen video background along with minimum content creates interactive yet classy visual definition to the real estate websites. Such web pages provide users with a strong impression of your brand increasing user experience and engaging level. You can change the video background based on the seasons or holidays. Pay attention to the video optimization of your real estate website since the video lags will negatively affect the conversion rate and create a poor impression on the visitors.
2. GIFs and Animations
Real estate website design will only win using GIFs and animations. It is another way to explain certain things or processes using animations. You can create GIFs by yourself using a relevant tool or you can download the existing ones from the Internet
3. Infinite Scrolling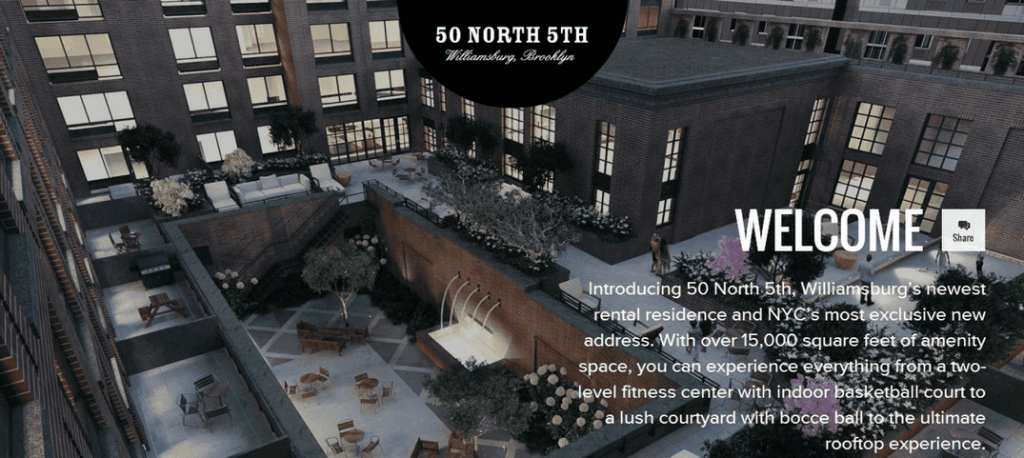 Navigation is important to give direction to the users and help them to move step-by-step towards their goal on the website. That is why infinite scrolling is one of the real estate design trends. It's faster than constantly clicking through the page. Plus, scrolling creates more dynamic and interesting interactions.
4. Bold Typography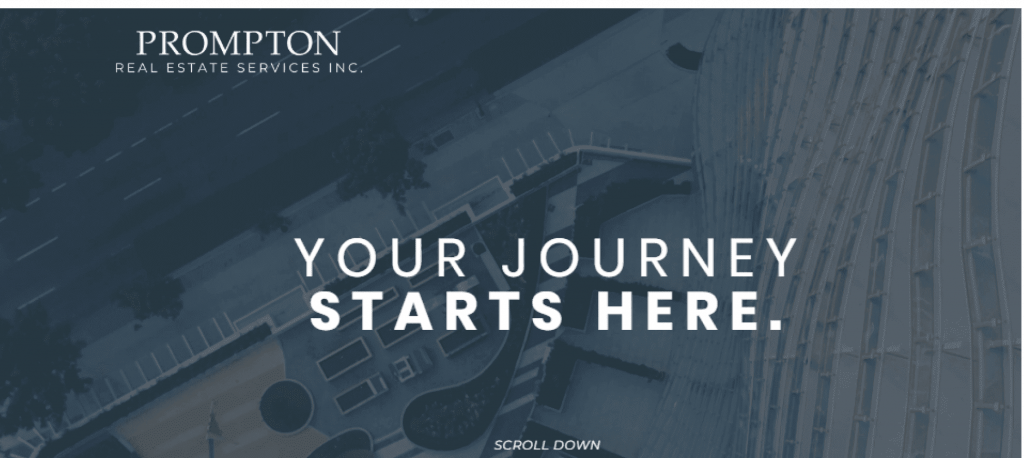 The element of typography should not be ignored during real estate website development. In fact, the font is crucial since this is the first thing that users notice. The right font establishes readability and creates the first impression of the real estate website.
5. Simple search bars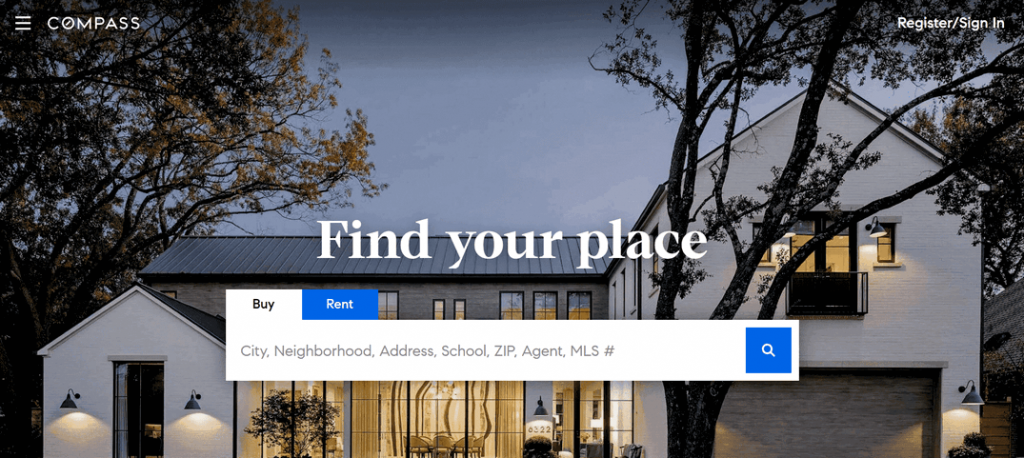 A simple and clear web design trend is to not overload the search bar with filters. You can allow leads to start searching for the property immediately at the arrival to the website. This approach will reduce confusion and increase the time a user will spend on your own real estate website.
6. Minimalistic Real Estate Web Design
Minimalistic website design for real estate is always the right choice. Such design can present content in a simple yet eye-catching manner without excessive color pallets or elements. You can use flat and icons, such designs will look clean and modern.
7. Schedule Showing
Using the Schedule Showing feature in the website design means that the user will have more showings of the real estates. The potential buyers will be able to choose and schedule the most convenient time and date of the appointments within a few clicks. It will directly affect time spending on the website as well as engagemen
8. Ghost buttons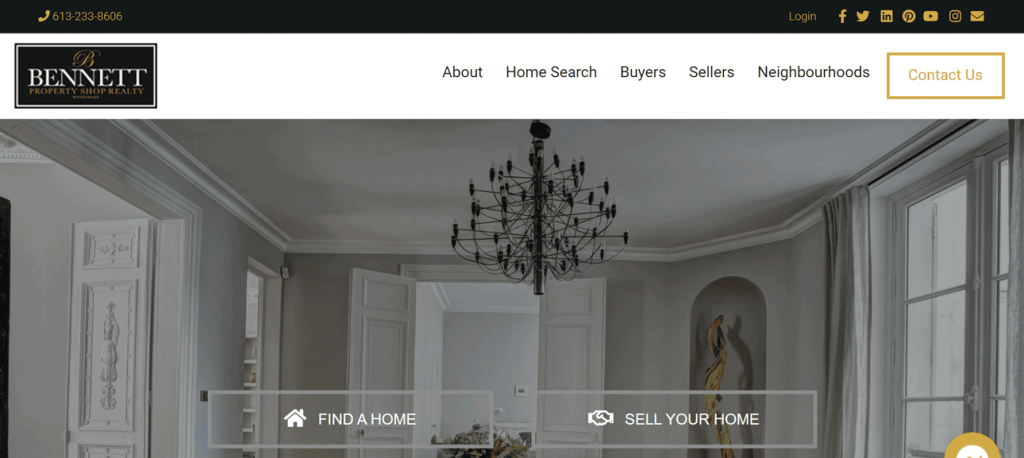 If you are looking for a way to create your CTA (call to action) button in style – the ghost button is what you've been looking for. The ghost button is attractive and usually has some additional special-effect hover animation. However, this trend will work in combination with an interesting solution for animation. That is why to get the recommendation from the web designer or an IT service provider will be a must. If you decide to implement this trend, it will attract the lead's attention and motivate them to do certain actions on the website.
9. Mobile compatibility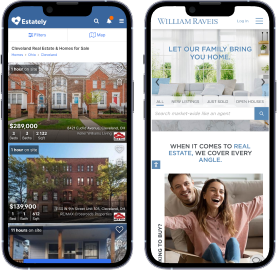 In 2022 responsive design was a must-have for the applications and websites, and that will continue into 2023. As an owner of a real estate website, you need to create a unique user experience for desktop and mobile devices. In fact, mobile and desktop devices are quite different that is why you need to keep that in mind for your real estate website design planning.
10. Video and Fotos
It is a fact that people prefer watching rather than reading. That is why the visual part of the real estate design should be focused on high-quality videos and property photographs. Note, that the first impression is important, that is why videos and photos have an effective and strong way to attract and retain users on the website.
11. Hidden Menus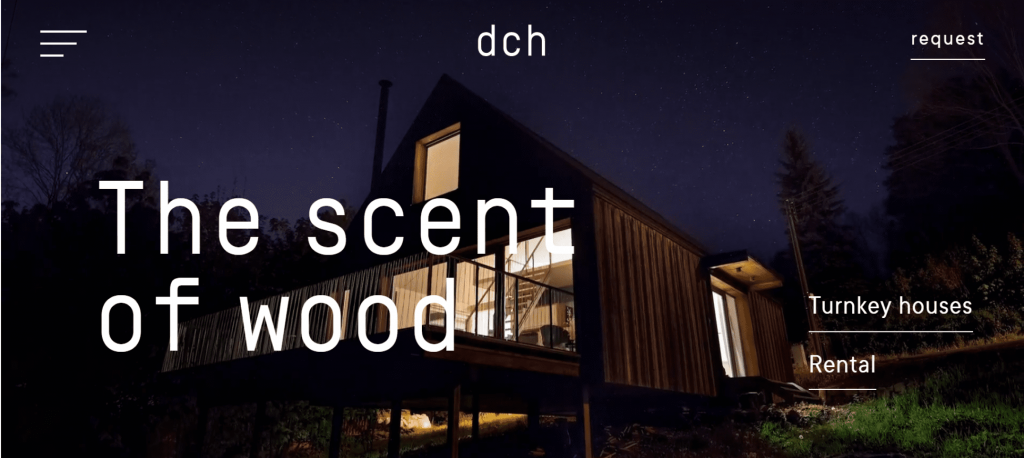 Rich navigation is a great way to show a wide range of possibilities of your real estate website. However, it is becoming a trend to hide navigation until the user interacts with it. This approach helps you to keep the clean and sharp design of your real estate website.
12. Final Thoughts
The real estate business focuses on commodities meaning that the websites should follow certain design trends that will potentially funnel the revenue. The real estate industry is considered to be one of the most competitive so it is crucial to have an appealing and functional website.

Design trends and functionality are shifting from year to year, that is why it's crucial to stay on top of industries and use the top-notch trends for your real estate website. The right design can attract leads, retain them on the website and motivate them for action while they are on the platform. Your website for real estate is a tool to drive conversions and increase lead generation. That is why a real estate website is a crucial element of your overall success.

We hope that the mentioned tips and trends will help you to build your own real estate website with an eye-catching and bold design. As an example, check out the real estate cases that were designed based on the top industry trends. We followed the best approach of UI/UX design to build functional and convenient applications. In case you've got any questions, feel free to drop us a line and we gladly assist you!