How to Build a Real Estate Website in 2023
According to the National Association of Realtors (NAR) — 41% of buyers find a new home online and then contact an agent to show them the property (18%). These statistics should provide an answer to every person who is wondering: Why do I need to build a real estate website?

As for real estate agents, a website is a key tool for reaching new prospects, automating processes, and increasing brand awareness online. The best websites provide users with valuable information to solve their problems and have convenient navigation.
In this article, we'll discuss how to build a website for both real estate agents and startups that aim to build a real estate website like Zillow, Trulia, or even better! Having the experience developing similar projects, we'll address types of real estate websites, main features, monetization strategies as well as SEO and marketing approaches in the real estate industry.

1. Why do you need your own real estate website?
Approximately 95% of home buyers searched online for homes at some point in the shopping process. It presents an opportunity to create your own real estate website to strengthen your online presence, develop the authority and credibility of your business.
In fact, a real estate website has a lot of benefits for the business. Let's name a few of them.
1. Saves Time for Both You and Your Clients
Without having to meet clients to discuss basic information about your real estate services, you and your customers can save a lot of time when you have a website. As long as your website includes all the necessary information, advanced filters, and integrated tools to help users find the best possible solution – clients will return to your website.
2. Generate More Leads
Making a real estate website, you don't have to be busy with phone calls or manually sending out emails. All you have to do is to maintain a good real estate website and optimize its visibility on search engines. That gives you an exposure to be seen by potential buyers who search for properties online.
3. Better Customer Service
People who want to buy or sell a home will probably want a real estate agent who is available for communication anytime. So, by having a website, you always stay in touch with your clients via messengers or the website's contact form. Integrating email marketing features into your website is another great option to notify your users about special deals or relevant offers.
4. Increase Contact Database
You can build a real estate website in such a way as to capture a person's contacts such as email, phone numbers, and other contact information. Even if the user just searched for something on the website, you can easily interact with him later providing better customer service. In this case, a real estate website is a huge marketing tool that allows users to get additional information and features in exchange for website engagement like:
Subscribe to a price changes
Log in to view more photos
Collect client data using a pixel for retargeting (FB) and remarketing (Google) to build communication with this lead in the future.
2. Types of Real Estate Websites
There are different types of real estate websites depending on your business purpose and the monetization model you decide to choose.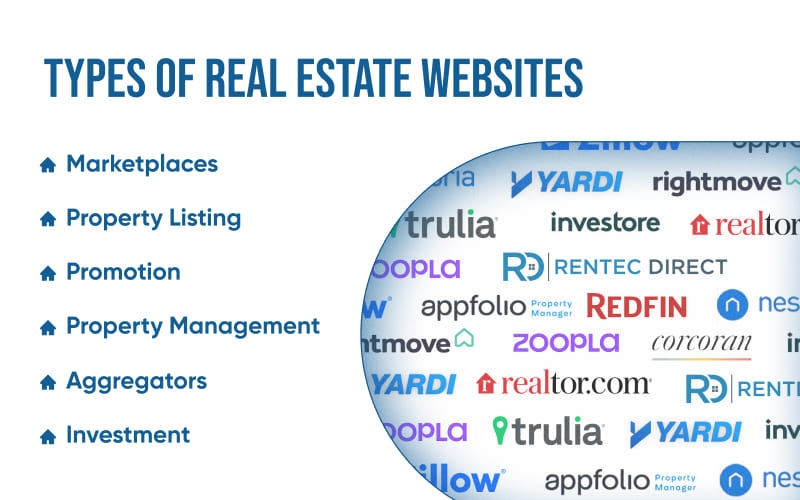 As you can see there are a few types of real estate websites based on your primary purpose. However, a business owner can choose to create a mixed real estate website including renting, selling, buying and managing features. Note, that all features should fit together while you decide on how to build a real estate website.
3. How to build a real estate website?
While making a real estate website, a business owner has two options: use a template or ask for custom real estate web development. While the first option is more affordable, web development provides you with a personalized tool for your potential clients.
Let's discuss real estate website development in more detail.
4. Core Features of a Real Estate Web Platform
Before getting into the development process, you need to identify your target audience aka who is going to use the real estate website: agents, buyers, or sellers. This will help to frame the list of real estate website features and address the main pain points of your clients.
We recommend starting with core features for real estate website, such as: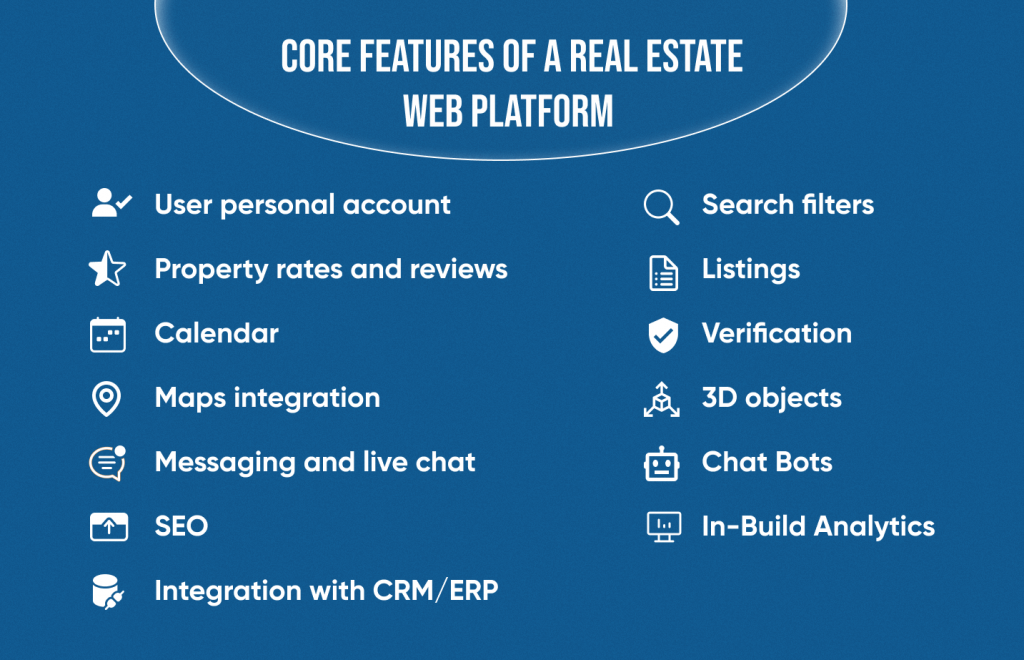 Registration Process
There should be an opportunity to log in using different options. For example, using social media accounts, a user's Google account, and a user's phone number. In addition, to make sure that real people will be registered, you can make an SMS confirmation, both for each entry and for registration. The user's personal data (name, phone number, address) should be highly protected with a few levels of verification.
User Personal Account
The personal account will be a useful feature not only for real estate websites but when you build any website. It allows users to store their personal information, search history, add items to "favorites" and get access to the extended website features.
User Roles
The real estate website should have different user roles to manage the website more effectively. We suggest including the main admin, editor, and content manager. Thus, user roles will allow you to secure the website from unauthorized users or accidents. Moreover, properly designed and developed user roles will save tons of time and money on recruiting additional staff. For example, a well-implemented role of the content manager will allow a less qualified specialist to manage the real estate website.
Property Rates and Reviews
It is always a good idea to include as much information about the property on the main page. So, along with the high-quality picture, pice, location, and a short description of the real estate, we recommend including a section with the property rates. The data could be downloaded from the marketplaces similar to buyscale. So, users will have a clear vision of what the rates and reviews the particular real estate has.
Calendar
It will be convenient for a user to use the calendar to book the visiting tour to the chosen property. The calendar can be integrated into Google calendars, for example. The calendar should take into account different time zones for a more user-friendly experience. After the user booked the preferred time slot the data could automatically be added to the lead's calendar.
Maps Integration
Looking for properties won't be possible without using a map. The interactive map with Google map integration to enable a feature "near me" suggestions is what you should keep in mind. Users have to clearly understand the location where this property is situated to make up their minds. We recommend applying different filters on the map, too. So, when a user will look for a property based on the particular filters, those results could clearly displayed on the map along with search attributes (like price, "near me" cafes, stations, parks, etc).
Another advantage is the visual search for real estate on the map. When a user is looking for an apartment, it will be difficult for him to understand its exact location, especially if he is new in the city. Therefore, it will be much more convenient to open the map, click on the specific area to set up the radius for apartment search, and select the preferable filters (like "for rent", "price", "size", etc.). Based on the filters the map will show the best options so the user will review these options just starting clicking on the icons on the map.
Search Filters
To find relevant real estate information on the website, you need advanced search filters. We recommend using filters mode like the type of property, size, location, price, number of rooms etc.. The more detailed the filters the more relevant information the users will get and engage with your website.
Step-by-Step Search in the Catalog
If the user has no clear understanding of what property he is looking for, we recommend using the feature of a step-by-step filter search. This feature will guide the user through the whole range of types and property categories allowing a lead to form the desired search result based on his answers.
Listings
The listing feature is a must-have for every real estate website. It should include detailed information about the property along with HD video and high-quality photos. You can add additional sections in the listings (such as policies, estate features) to provide users with a full scope of information. For a more user-friendly experience, we recommend enabling the customization of lists. So, the user could change the view of the list (tile or columnar) for more convenient use.
User Data Management
Once the users sign up or subscribe to a real estate website, you as an owner can work with their data to provide the best possible solution for your users. You can upload names, phone numbers, and emails, so later one to create a personalized email marketing campaign with relevant and updated information. Additionally, you can download data according to the date of user creation, the last visit, or work with objects of interest (based on the users' engagement on the real estate website).
Favorites
A must-have feature to organize and structure the different real estate search results. It will be great if a user can categorize the results into "favorites", "review later", "notes", etc. Plus will be to create folders in this section and be able to share these files with family and friends.
Verification
Property verification allows to reduce online frauds and secure the reputation of the real estate website. The property data should be downloaded from trustworthy sources and marketplaces, guaranteeing the trust between the website owners and clients.
3D Objects
This is a great feature to implement into your real estate website. You need to hire a professional who will provide you with a 3D version of the properties, however, this is a killer feature that will grant you a competitive advantage among similar real estate websites.
Property Documentations
This section will provide users with the necessary documentation for a specific property. The user will have the chance to get information about the year of house construction, previous owners, safety status, and other information that may affect the decision-making process.
Messaging and Live Chat
Live chat and messaging features should be fast and user-friendly in use. A business owner can easily lose a customer if the messaging experience is poor. Live chats are a great way to retain the users of the website and increase the engagement rate. Plus, it is the quickest way to contact the real estate agent and get all the answers.
Email Integration
Integration with email services is a good option for getting a user's contacts and boosting the overall user experience (UX) of the website. Clients might be interested in getting notifications and alerts about properties they have been interested in. While you can warm up the target audience and segment it using emails, you also can set up automatic email threads and talk about new discounts, new properties on the market, etc..
Search Engine Optimization (SEO)
Pay attention to the on-site and off-site search engine optimization to get the highest Google ranking results. In addition, SEO-optimized real estate websites allow getting uncostly real estate leads that will be interested in your service. On-site SEO optimization includes the correct HTML structure for pages, the correct structure of the entire site, as well as compliance with a number of conditions, such as the absence of duplicate pages, the presence of meta tags, as well as working with the content on your website (title, description, images, links, etc.). Note, that correct on-sie SEO optimization can significantly save on external promotion and increase the traffic for long-tail queries.
On the other hand, off-site SEO is what you are doing outside your real estate website (guest postings, paid advertising, press releases, social media mentions). Moreover, technical SEO refers to the various improvements of the technical aspects of the website to rank high.
Integration with CRM/ERP
CRM aims to keep all the client data in one place. Real estate CRM integration allows businesses to build relationships with their users and manage them easily. It is important to smoothly integrate your real estate website with CRM/ERP. For this reason, it's crucial to find the right development team that has all the relevant experience and a wide portfolio of successful cases.
Chat Bots
Chatbots are a great tool to engage leads and retain users on the website page. The real estate industry will continue striving toward more personalization and AI technologies. That is why chatbots are an effective tool to convert leads.
We should mention that chatbots can significantly help with your sales funnel. For example, if the initial stage of your sales funnel has more or less similar questions, the chatbot can provide the answers to the users while there are a lot of leads on the website. As a result, chatbots will save time and money for human labor.
Additional Pages
Additional pages will tell more about your real estate business. Perhaps, you can include the "Team" page where you can present your team members, or "About us" telling the story of why you decided to build your own real estate website. Also, the popular page is a FAQ that provides users with the most relevant information and data related to real estate.
In-Build Analytics
Our goal was to describe the main real estate website features that will allow users to use the website effectively while you will receive maximum leads. However, we need to mention another important feature – analytics, which should be configured in such a way as to give the website owner maximum information about his visitors and leads, as well as about the channels that brought leads and led to a deal.
In-Build Calculator
This feature will help to estimate home value to help users to make the decision process easier. The calculator may include the size, the number of rooms, desired location, etc. so after indicating the main parameters the user will have the approximate cost of the desired real estate to choose the best option.
Check out our recent article about real estate website features to find out more.

5. What are the main steps in real estate web development?
Let's review the main stages in web development: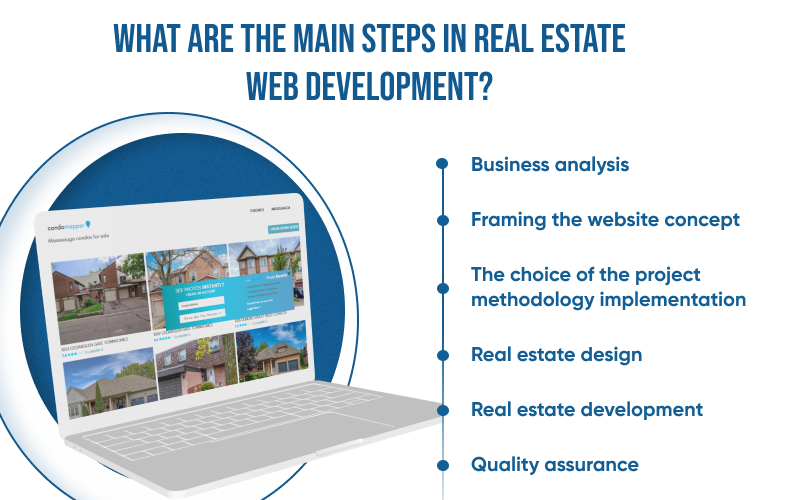 1. Business Analysis
Market research will help you to collect more information about the real estate industry and market competition. To build the ultimate tool for real estate agents, you need to analyze your competitors and find out are their advantages and drawbacks, what real estate website features they use, and tactics they implement. A good practice is to look through reviews on the competitors' websites and get to know what their users think of the website. In addition, you need to be familiar with the main user pain points. In this case, we recommend doing a user persona – a short description of your target audience (their incentives and challenges).
2. Framing the Website Concept
From the business analysis data, you can move on to establishing the real estate website concept and main features. Frame project requirements that will elaborate on your business's main goals. The next step will be structuring your ideas in a form of a sitemap with a detailed description of each block and feature. If you don't have relevant experience – it's totally fine. At this stage, you can find a reliable tech partner like AMgrade who will be able to help you with this case. Once you structure your ideas and describe them it's time to move to writing a specification of the project and creating technical documentation for real estate design and web development.
3. Real Estate Design
Design for any project is more than just a beautiful User Interface. The right design leads the visitor to their goals and turns the visitor into a lead. Therefore, when creating a design for the real estate website, it is important to remember that each page and block has only one goal. Whether it is to fill out the form, subscribe, make a call, etc. the whole design should lead a user throughout the website so that as soon as the client has a desire, he immediately should engage with it.
Based on project requirements, designers will create a prototype of your own real estate website. The prototyping should follow the best practices of UI/UX design to increase user engagement with the platform. We would like to emphasize that the design should improve behavioral factors and lead the user to specific goals (e.g. registration, subscription, call, filling contact form, etc.). It is also worth focusing on the responsive mobile design since mobile compatibility is a huge trend right now that will only benefit your business.
When the final design concept is approved, we move to the website development of the real estate platform and implementation of the main website features.
4. The Choice of the Project Methodology Implementation
We recommend starting with MVP (minimum viable product) development. This is an approach that highlights the most vital features to start the development process as soon as possible. It allows you to release a product without waiting for the full implementation of the project, get the first feedback from users, test the hypothesis and target audiences and adjust the development of the project at early stages while saving a significant part of the amount.
At this stage, you should choose the project implementation methodology (like Waterfall or Agile) and frame technical tasks for the further development process.
5. Real Estate Web Development
The implementation phase is all about a high-quality codebase and using the best development standards to create a robust website. It is worth mentioning that it is important to follow the best practices of creating code, so in the future, this will facilitate the support of the project. Moreover, it's crucial to structure the database correctly so the whole project will have robust architecture and logic. Neglecting this point will have a huge cost in the future. For example, if you would like to scale your business and expand the real estate website to create something like Zillow or Redfin. While you will have a solid database structure, you can easily expand your business. On the other hand, weak architecture won't allow you to scale the business.
In addition, optimizing the velocity at which the frontend and backend interact is definitely one of the most important aspects of a website because it directly affects the users' experience and determines the project's scaling capacity.
Note, that there are a lot of technologies and you can choose any of them, like Angular, React or Vue. However, every technology has its advantages and disadvantages that need to be taken into account when you decide to develop a real estate website. A business owner has to think carefully about the number of specialists, developers rate, the popularity of the technology, etc.
6. Quality Assurance
Aftermath the development stage, the product goes through several stages of testing. The QA engineers check the basic website functions and attributes such as time loads and improve them if needed. In addition, we provide checks of the layout on different devices, security checks, checking the layout of pages with a different filling of content (for example, for cards, the title can be in one line or three – often they think about it a little and then collapse occurs when filling out). The main aim here is to create robust products that will scale easily in the future.
6. How to monetize a real estate website
Did you know that building a real estate website will allow not only attracting potential leads, but also simply earning on your own real estate website? There are a few ways how you can monetize the real estate website, let's take a look:
1. Affiliate Marketing
This is the most popular way to monetize a real estate website. Start by searching for the potential services and products that you would like to endorse to your website visitors, such as home services, legal services, furniture marketplaces, etc.
After the negotiation with the partner, you can start promoting certain products/services on your real estate website. Once the user clicks on the affiliate link, you will get a percentage of the sale price of that product.
2. Sell the Ad space on the Website
You can sell advertising space right on your own website. You can integrate Google's AdSence into your real estate website's banners and sidebars. This case is perfect when you have a high volume of traffic. On the other hand, you can sell the ad space directly to the companies that are looking for a place to advertise their real estate services. In both cases, you will operate metrics such as Cost per Click.
3. Think of Consulting Services
If you are highly experienced in the real estate industry, why not share this knowledge and provide consulting services? Creating an additional webpage or landing page will be enough to start spreading the word about this new service.
4. Sell Online Products
If your website has relatively good traffic, you can try to sell digital products. Starting from eBooks to workshops, podcasts, or even online courses, you can sell any content that will be valuable for your target audience. However, be sure you won't sell content that is already free on the Internet.
In addition, as an owner of a real estate website you can add paid places in the top listings or paid subscriptions to listings notifications. Also, for those users who will post their own property, you can add paid subscriptions for this purpose. For example, a user could have 3 free posts, but for more, he should pay.
7. How to rank high with your real estate website
Ranking high on Google is a complicated task that is affected by thousands of factors, starting from the ever-changing algorithms, to the content of the website to promotional tactics. While developing a real estate website, you should keep that in mind that the real estate niche is highly competitive. As a business owner, you have to promote your real estate website and combine different approaches to rank high on the search results.
Promotion is a long-term process. Any engine contains SEO settings that need to be worked out from A to Z: write down meta tags for each page and image, add a sitemap, and everything else that is in the settings.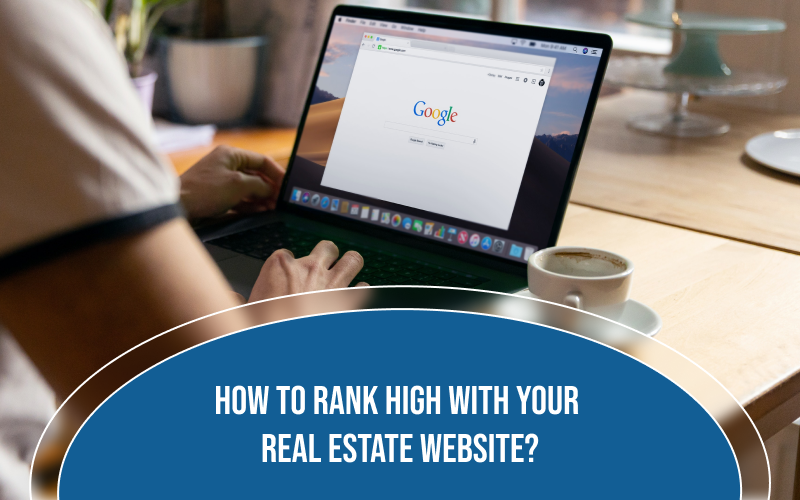 To begin with, you need to do an SEO audit that will focus on site and page structures, content, links, and usability. Next, is to optimize website content for search. Pay attention to SEO-friendly URLs, keyword research, optimization of title and meta description, site speed optimization, content optimization, working with broken links.
Today, half of the traffic comes from mobile phones, therefore, optimization for mobile devices is a must-have. Mobile optimization focus on creating a responsive design, optimizing page speed and hosting, improving website navigation, etc.
Social media management is a must-have tool in the modern real estate industry. Pinterest is only one example of how the social media platform can generate leads by means of high-quality website pictures. Getting social allows you to connect with the users and target audience, increase brand awareness, increase conversions, boost traffic on the real estate website.
Content on the website is another option that will help you to rank higher. All texts must be unique, and blogging will help a lot – you can use key phrases collected.
Contextual advertising also has a good effect, but you have to customize it. If you want to get the effect, but do not want to tinker with it manually, pay attention to uKit – it is the only one from a selection of engines that allows you to run ads without skills.
8. Final Thoughts
As a rule, the website of a realtor or real estate agency is a multi-page business card. It depends on the scale of the business since it can be a simple project or a complex one that implements links between a database of houses, realtors, and clients. There must be a catalog of real estate with descriptions, terms of cooperation, services, prices, feedback form, and other types of contacts. Also, a blog will not hurt, which will help expand the base of key phrases and provide useful information to those wishing to buy or rent housing.
To build a truly great real estate website – the quality of photographs plays a huge role. People will use them to judge whether the game is worth the candle or not. If the site is small, you need to present the most interesting offers that can attract customers more effectively than others. If you have several realtors, you need to specify contacts for each of them so that the person can choose with whom to work. The design of the site also plays a role – it should be modern and pleasant to look at. A particularly important home page, in particular the header, should attract attention and motivate you to continue exploring the site.
Building a real estate website is a feasible task even for a beginner. Therefore hiding a reliable partner is the must-have step to achieve successful results for your business. If you are looking to build a real estate website but still got questions, feel free to contact us and we'll help you with any inquiries.