How to hire a dedicated development team: 9 steps to simplify the hiring process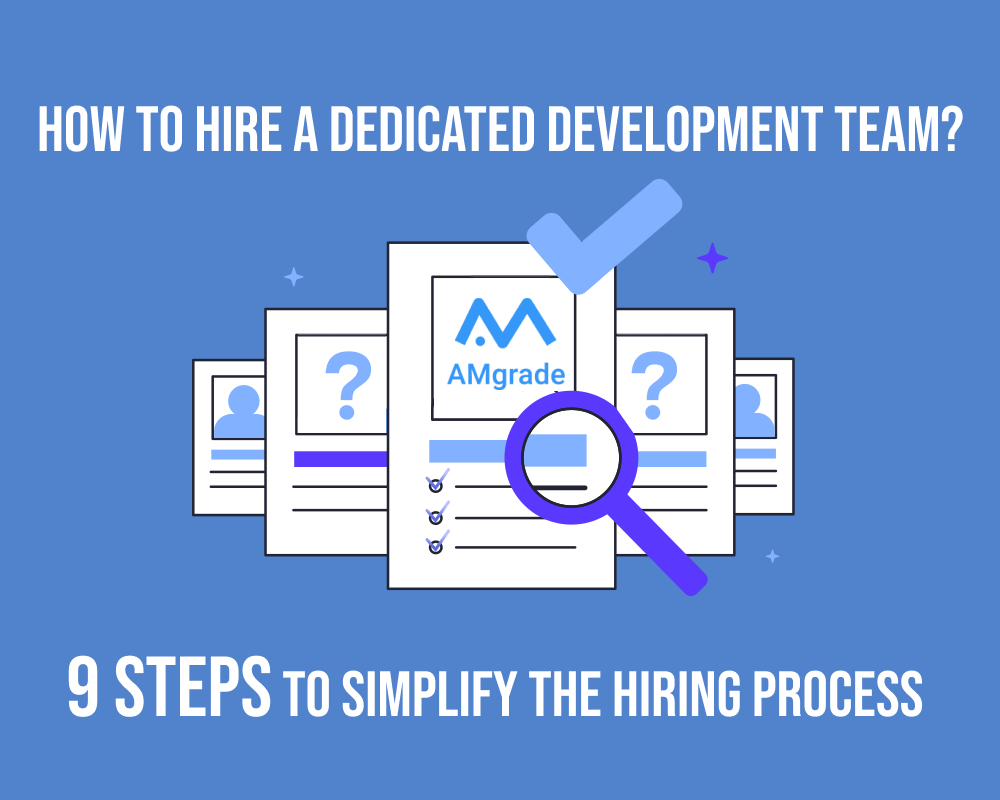 Millions of businesses worldwide are shifting away from traditional employment and hiring an entire offshore dedicated development team. Skilled, dedicated team talent helps these businesses unlock their potential by solving complex problems, getting more work done, and completing projects faster.
When your business grows, new ideas come from here or there, your team is motivated, and you are ready to move forward. And here it comes. You are willing to implement it. It would be a groundbreaking product, creative solutions that everybody needs, and a key to a stream of income. Great! But who's going to execute it? Hiring a dedicated development team will be wise if your next project has a strict timeline and budget. If you'd follow just 9 steps, hiring a dedicated team would run smoothly and easily. But before starting the process, let's clear all the basic details about a dedicated team of developers for hire.
1. What is dedicated development
A dedicated development is a collaboration model between a client and an outsourced team of developers on a long-term basis. This team of professionals is assembled for your specific business goals and focused on successfully implementing a determined project.
The client decides who the dedicated software development team members are, the number of specialists, and the conditions. Based on these requirements, a team is formed and placed at the client's disposal for a specified period. The client or a company representative can manage control over the work. The dedicated software engineering team is a separate, remote IT department that works exclusively on a particular project.
According to the Dedicated Team model, the client gets a dedicated software team with well-functioning interaction and management mechanisms. It is aimed at productive work in a project the company lacks experience in.
2. Engagement models in software development
When you start searching for an outsourcing venture, you should decide which collaboration model suits the goals of a project best. Among the leading are:
Fixed Price/Budget
Time and Material
Dedicated Team
The Fixed Price model is commonly used in small projects with precise requirements, specifications, and timelines. Furthermore, they usually do not change during the project implementation. Therefore, it is used for short-term software development tasks without extra supervision by the client. For example, it can be the development of prototypes or simple solutions for internal use. In such a model, the pricing and conditions are well documented.
Time and Material (T&M) would be perfect for long-term cooperation with a complex product that needs to be updated and scaled. Here the client pays the software team for the work hours required to finish a project and for all the materials they use. There are no strict prices or deadlines for the team.
Let's check all the significant differences in engagement models in one comparison table to ease choosing the most efficient engagement model.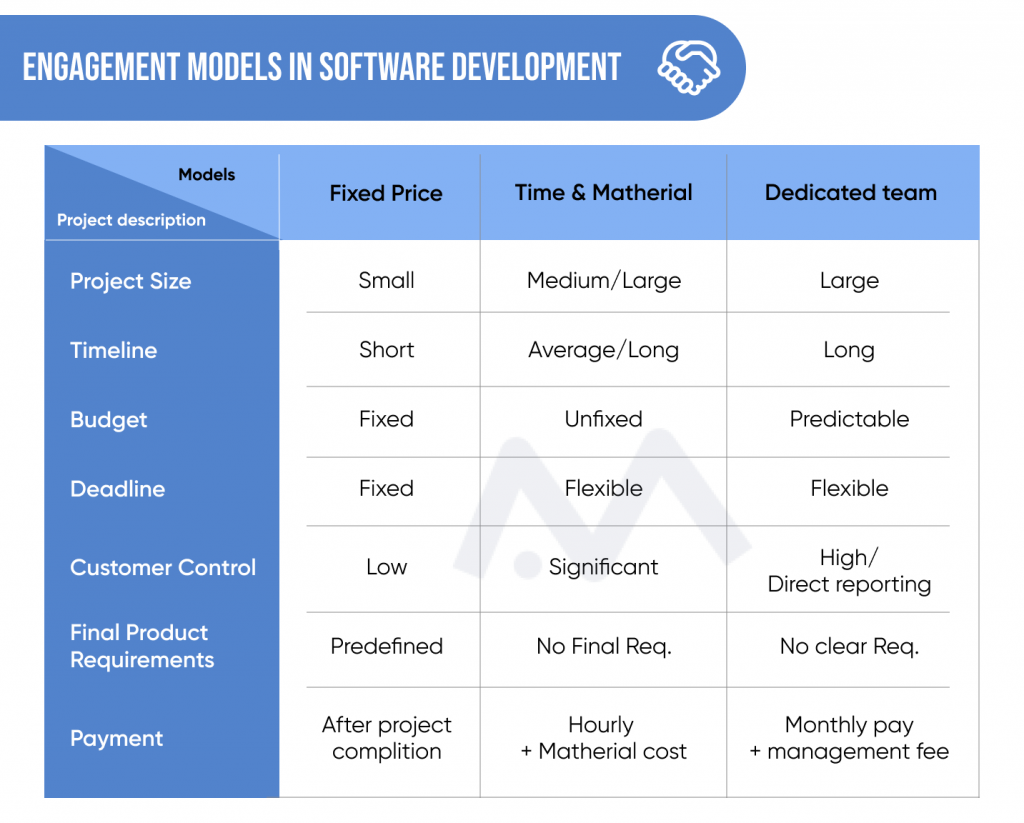 3. What are the benefits of a dedicated team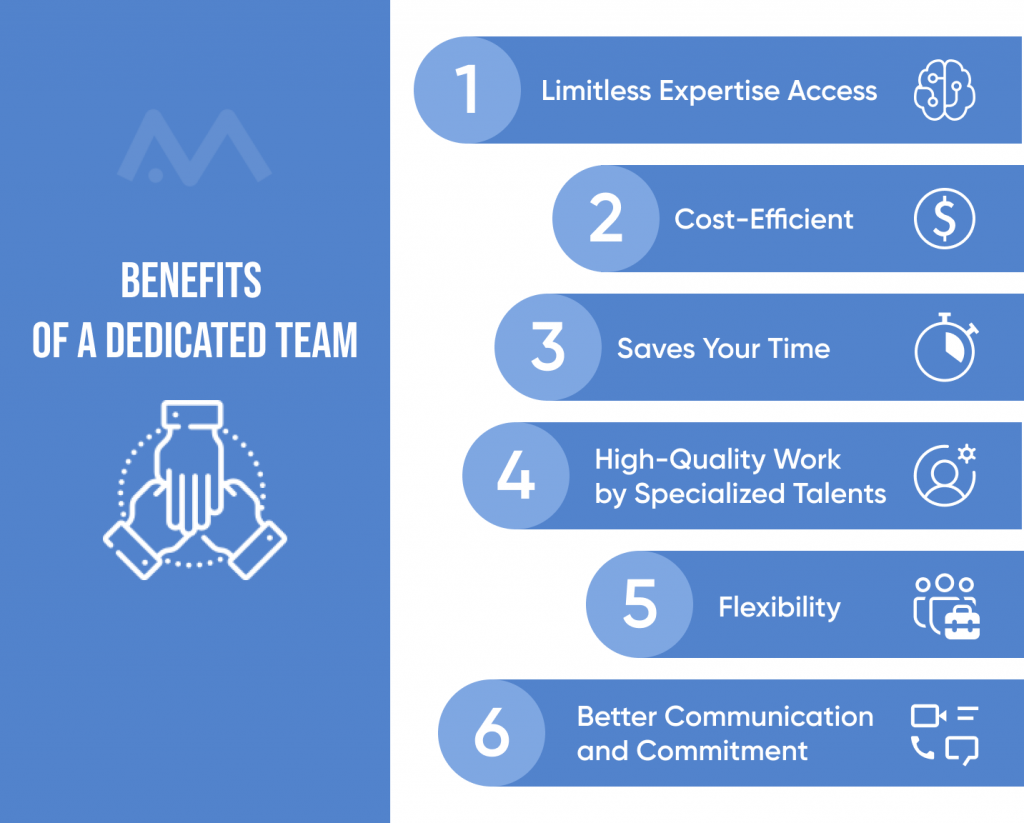 There are plenty of reasons to hire dedicated developers. Let's take a look at the most common.
It is Cost-Efficient
It is much cheaper to hire dedicated programmers than gather an in-house team. According to Deloitte's 2020 Global Outsourcing Survey report, the top reason (70%) to outsource is cutting costs. Hiring an offshore dedicated team means you don't need to pay for the office space, hiring expenses, training and onboarding, no hardware/software requirement, or taxes.
Limitless Expertise Access
It could be a big challenge to gather specified specialists in a determined time, budget, region, and experience. Isn't it? Do not limit yourself. If you hire dedicated remote team it would give you access to a huge pool of talent. A highly qualified complete expert team worldwide.
It Saves Your Time
There is no need to waste your time and money on posting the job advertisement, going through many interviews with several candidates, and lengthy onboarding processes. The dedicated software developers can be hired within hours or days. The best dedicated developers for hire are chosen for you by the outsource company from their in-house specialists in the shortest terms.
High-Quality Work by Specialized Talents
If your business requires a specific skill set for a project, an experienced dedicated development team can bring much value to it. You can identify the specialists and choose the team that spent years perfecting their skills in the distinct niche. Likewise, it increases the speed and quality of the project itself and product release.
Flexibility
Working with an in-house team has many advantages. Yet it won't give you such freedom and flexibility as working with a dedicated remote team. For example, if you don't need services from one of your in-house members you cannot just fire him. There has to be a serious reason and compensation.
Unlike dedicated outsourcing makes the team scaling simple and easy. Thus, during your collaboration with a dedicated software development company, you can decide on the number of engineers you may need and expand or reduce them. That kind of flexibility leads to more profitable and creative business solutions.
Better Communication and Commitment to the Project
The client and the dedicated software engineering team cooperate closely. Continuous everyday communication creates better engagement, increased productivity, and complete immersion into your project. The research of Harvard Business Review shows that an average dedicated development team boosts productivity by 10%.
4. When should I use a dedicated development team
According to global outsourcing statistics, almost 68% of US and 48% of UK companies use offshore outsourcing enterprises. Moreover, international outsourcing and remote services are projected to reach $19.5 billion by 2025.
So, in which cases is it better to hire a dedicated development team?
New product release and lunch
A successful product release launching needs perfect planning and performance. A dedicated software development team would turn your great idea into a prototype, prototype into a product, and then bring it to market.
Product scaling
A good product needs to grow. Product scaling is rewardable but challenging. A dedicated software team means you'll be able to do more tasks faster in the shortest terms but of high quality. They are totally responsible for the project according to your requirements. The dedicated teams consist of experienced experts, each suited to a specific aspect of product scaling.
Projects with tight deadlines and a budget
By submitting your project budget and timelines to the vendor, you can jump through hiring developers and focus on high-priority tasks. The vendor company will take care of selecting the right team members due to the budget and provide you with a fully functional team within less than 2 weeks.
Long-term projects with updates
A dedicated software engineering team would be the best choice for complex long-term projects that take approximately (2+) months to complete. This is because they manage high-quality product updates throughout the entire development process.
5. Who are the members of the development team
The structure of a software development team might differ depending on a client's goals and needs. The most common model is:
Project Manager (PM)
Business Analysts (BA)
UX/UI designers
DevOps engineers
Front-end engineers
Back-end engineers
QA engineers
The Project Manager is in charge of the entire path for the team, from planning to execution. He communicates with the client, makes reports, manages, tracks progress, and mitigates project risks. It is a valuable specialist if you do not have enough technical knowledge or capacity to control the process on your own.
Business Analysts assess project goals, user data, and analytics, analyze and document core processes, and offer suggestions to CEOs and business owners.
UX/UI designers are responsible for the product's interface and aesthetics. They create simple, responsive, and interactive user interfaces.
DevOps engineers include databases and servers, speed up operations, and testing process.
Also, you need to hire dedicated frontend developers to design and construct interactive web pages and applications—the part that users see and interact with.
If you hire dedicated backend developers, you receive experts who ensure the website performs correctly, including databases, servers, and apps, and they control what you don't see.
QA engineers create tests that identify issues with software before a product launch and ensure the delivery of bug-free applications.
6. The best location for hiring a dedicated development team
The dedicated development team model lets hire the dedicated team from all over the world. According to various sources, Ukraine in Eastern Europe, Poland in Central Europe, Argentina in South America, and India in Asia are the major outsourcing countries.
Today Ukraine's tech industry provides the highest quality technical expertise in software development services through small and middle-sized companies. More and more companies worldwide are choosing Ukrainian outsourcing ventures due to their low cost, the number of tech specialists, loyal taxation policy, and ease of doing business.
AMgrade has built a remote dedicated software development over 10 years. Our dedicated developers would 100% concentrate on your project while being capable of quickly and easily scaling your dedicated team. Ukrainian dedicated development teams from AMgrade have already helped many startups grow into successful businesses. Contact us now to get more information about our experienced dedicated team of developers for hire.
7. How much cost dedicated team statistics
Before starting the search and hiring process, you should assemble a budget plan. The budget for a project may vary depending on the country and the number of selected members of a dedicated development team. To estimate the cost of a dedicated development team for hire, you can discover the current situation in the worldwide IT hiring market.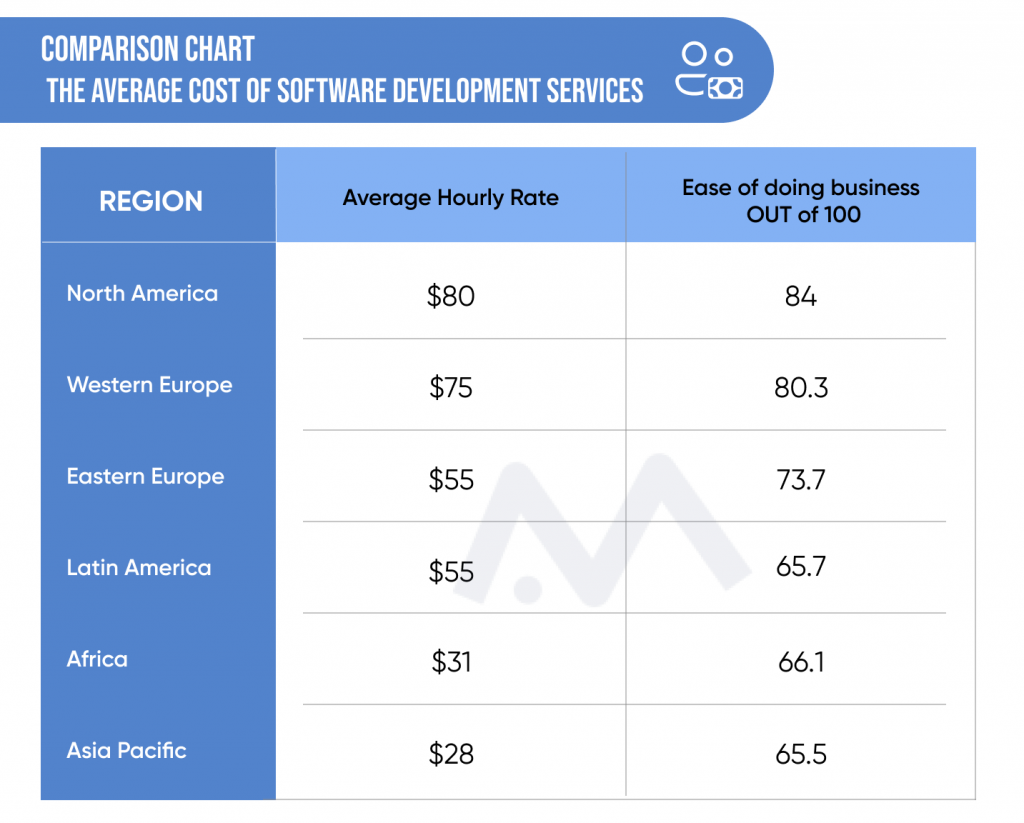 8.Successful hiring the right dedicated development team in 9 steps
Step #1 Consider the goals
Step #2 Define the roles and responsibilities of each member
Step #3 Determine the region of a hired team and the budget
Step #4 Find your ideal team
Step #5 Conduct interviews with qualified team members
Step #6 Select your team and make an offer
Step #7 Launching a dedicated team
Step #8 Managing a dedicated team and receiving updates
Step #9 Release and contract renewal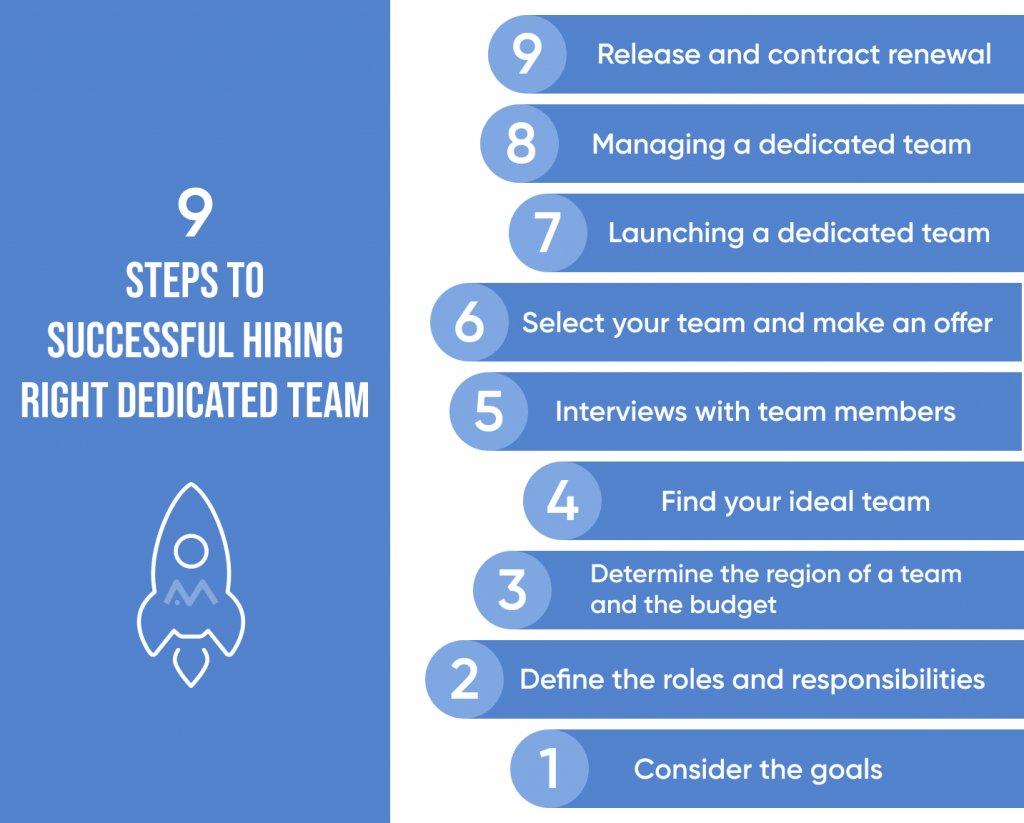 Step #1 Consider the goals
Before you hire a dedicated remote development team, you have to brainstorm. Then, write down the exact needs of your project. Write a project description. Here you have to clarify everything from its purpose to its scope. In addition, the project description should include such important aspects as project goals and objectives, stakeholders and their roles, metrics for measuring success, timeline, and estimated budget. If you have completed your homework perfectly – get your A+ and move forward.
Step #2 Define the roles and responsibilities of each member
In this step, you should consider how many experts you would need in your dedicated developer team.
When creating a role and drafting job descriptions, ask yourself: What challenges am I trying to solve? What kind of skills should team members have to release a product? Then, create an evaluation scorecard with metrics and criteria you are looking for in your future dedicated offshore developers.
Step #3 Determine the region of a hired team and the budget
If you have already specified clear goals, timelines, and what kind of a dedicated development team you need, it is time to define the region/country of search. Sometimes it needs to review a budget due to the location.
Step #4 Find your ideal team
Finding a reliable partner for long-term development projects can be challenging. So to manage it fast, you can use all possible search channels and opportunities. First of all, surf the internet. Efficient Google Search according to a location brings unlimited access to required information.
Another good option where you can find dedicated offshore developers is online platforms and directories. Such a search can save you a lot of time and energy. Moreover, on specialized online platforms, you receive ready-to-use listings with information about outsourcing ventures or developers for hire.
Sometimes it is worth a look at social media and freelancer websites. Don't forget to ask for recommendations from colleagues, friends, or people who know the market.
In the decision-making process, pay attention to company reviews, experience in similar projects, general information, number of employees, development prices and hourly rates, outsourcing company's services, and portfolio.
Step #5 Conduct interviews with qualified team members
Create a list of dedicated development companies with relevant experience and dedicated team services. Conduct interviews with qualified candidates. Before the meeting, you can send an email where you describe your project briefly and a short set of interview questions so that the project manager or company representative prepares all needed information beforehand. For example, the list of questions you can pose to all candidates might be the following:
The team composition and its professional capabilities;
Scope of work and cost;
Experience of performers in a dedicated project;
Project timelines;
The form of cooperation and payment for services;
Options for resolving disputes and conflicts;
The development process and further scaling updates in the project;
Access after the delivery of the project;
Copyright for the product.
That would help you assess how each dedicated team can meet your business's needs. Then, discuss each dedicated team pay expectations based on their experience, education, and skill set at the meeting.
Compare your candidates' figures with what you found in the selected market and salary research. Do not dismiss an outsourcing company out of hand if its budget expectations are higher than you anticipate. A higher number may mean they have more benefits and perks.
Step #6 Select your team and make an offer
There is no formula for choosing the best dedicated team for the best price. Before you notify the candidate of the project offer, check the company's background, reliability, reviews, and recommendations, you can contact previous clients. In addition, you can ask a contractor for an example of a cooperation agreement. But here, it is important to remember that each project is unique, and a contract agreement would also be individual.
Stay positive and make an offer. When you extend a project offer, be congratulatory in your communications, but ask the contractors to answer by a specific date and propose their preferred start date.
Sign the contract. The contract should contain a general list of points that can be applied to any activity. Furthermore, it should be concentrated on your needs, and you should see the terms of software development, the services cost, and price arguments.
Finally, do not forget to ask the contractor to sign a non-disclosure agreement (NDA) so that all work and the project details are discussed only between you and the dedicated development team.
Step #7 Launching a dedicated team
To launch, a dedicated software development team or company representatives should align engineering processes and define roles. Make comprehensive support for the project management. Make sure that developing policies reflect companies' goals and values. Through the development process, review the talent acquisition services. They should be precisely tailored to current needs. Eventually, resolve accounting, legal and other BPO issues.
Step #8 Managing a dedicated team and receiving updates
Managing developers outsourcing dedicated teams can differ. Someone chooses more control with daily updates and reports. Others will give more free hands to the Project Managers and software developers.
Step #9 Release and contract renewal
After the software development project is done, summarize the conclusion on how well this model has performed with your project. The offshore dedicated development team should live up to expectations, increase the scope of your projects, and make a profit for the company. Be strategic and make a plan that you can scale as you grow. Think about contract renewal.
Summary
Whether you are hiring an offshore dedicated development team for the first time or improving how you'll employ your next one, take your time. You shouldn't rush to hire just anyone—you are engaging your project creators and company members. Try to find someone who shares much of your passion for nurturing your business. With the right dedicated software development partner, you receive an alternative workforce with increased flexibility at a lower operating cost. You also receive personalized and creative project proposals plus an excellent investment return.
Don't hesitate to get in touch for an informal chat about a tailored solution for you.