Smarbus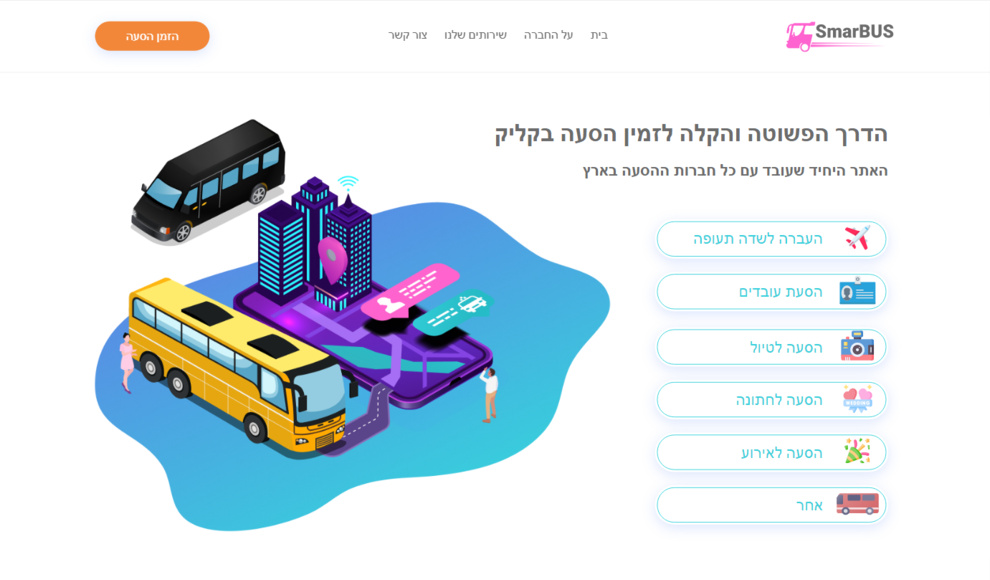 Background
System for Passenger Transportation company on the Israelitish market
Problem to be solved
Simply said - Manual inconsistent system. Unfortunately, this problem is still common for the market. Basing on the huge experience in the transport service industry client had a clear understanding about the specifics of local customers. And knew - it's time for business to transform in order to provide better service.
Solution
Website with thought-out user experience, responsive design, and system to upgrade the flow. On the website, customers can build the route of their ride, include every stop they need, the time it right, pick the vehicle, calculate the cost, book, and pay. Which means fully automate ordering flow! Business owner can track vehicles availability, a quantity of orders, drivers' schedule and get paid, of cource.
A look back
Israelitish transportation market consists of numerous companies. However, most of them are still using fully manual systems that are pretty inefficient for customers and the company employees. Issues and inconsistency are a daily struggle for them, ruining the trust in the brand. No clear prices and availability information right away - even within the company, conflicting schedules and it's just a few problems they face. In such cases, Digital Transformation, even a simple one, can make a miracle and put the business on another level.
Monetization
Clear system and convenience are strong steps forward towards brand trust and recognition. It and new opportunities in digital marketing lead to the growth of the profit. + Optimized process frees up enough time to plan the business scaling, think through the new directions. Huge win in both - short and long run.
Fully custom design solution. Oriented on the customers' convenience with knowing all the specifics of the market. Including RLT (right-to-left) optimization.
Thought-out calculation logic gives the opportunity for the customers to plan their ride step by step. + Selection of vehicles right away.
Solution was implemented with maximum Responsiveness for Web and Mobile
Optimized company workflow with system of booking and sceduling.
Integrated payment system to automate the process.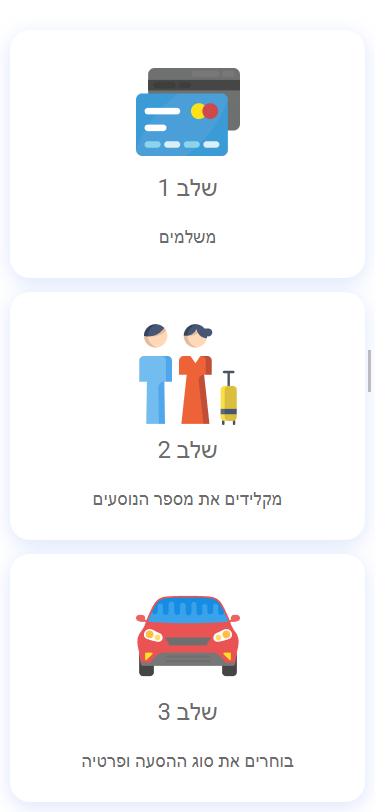 Win 1
We implemented Whatsapp integration for the customer support system
Win 2
We implemented Twilio for user verification and SMS notifications
Win 3
cardcom.co.il - local payment picked for top user convenience
Stack
We built the system in 9 weeks
Team
Composition
The team of four people successfully implemented this project
Project Manager
1
Developers
1
QA&nbsp&nbsp&nbsp&nbsp&nbsp&nbsp&nbsp&nbsp&nbsp&nbsp&nbsp&nbsp&nbsp&nbsp&nbsp&nbsp&nbsp&nbsp&nbsp&nbsp&nbsp&nbsp&nbsp&nbsp&nbsp
1
Designer
1
Got a project in mind?
Tell us about the idea for your project and together we can develop the perfect solution for your business.
Let's do it
Got a project in mind?