Dignio
Revolutionizing the healthcare industry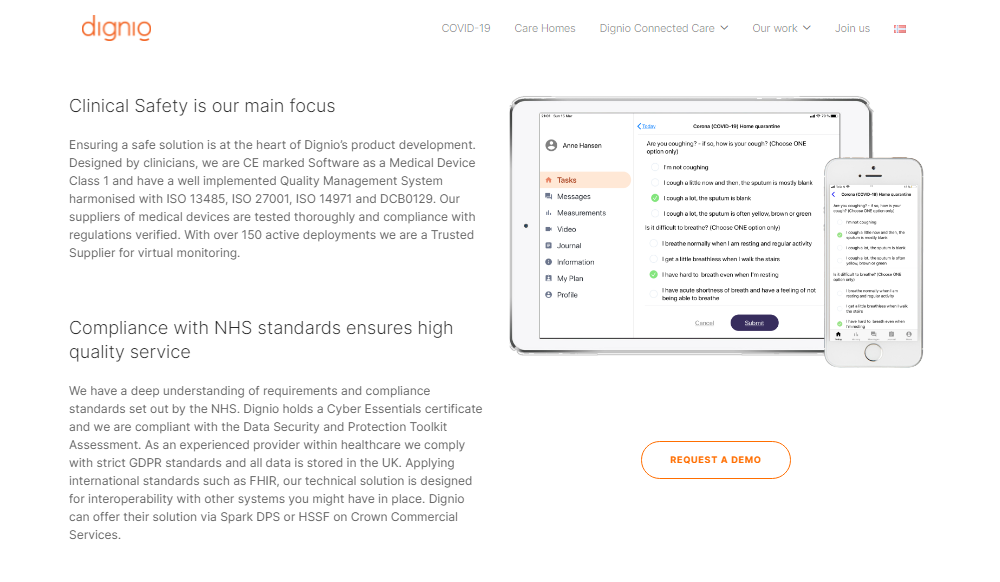 Background
An idea behind Dignio is to create a Software that will become a central part of the solution in making the healthcare system sustainable. Dignio offers healthcare providers an innovative remote care service for their patients by combining an advanced health platform with a user-friendly app, and with a wide selection of connected health monitoring devices, making it possible to follow up a variety of conditions.
Problem to be solved
During the pandemic, the need to protect and provide care for the most vulnerable members of our society has never been so important. The Dignio is a complete solution created for comprehensive monitoring of wellbeing and clinical conditions within various settings such as care homes, supported living and domiciliary settings.
Dignio connects patients and healthcare professionals through a digital platform that disrupts the traditional way of delivering health services and opens up new possibilities for a more sustainable solution.
Our platform for connected care is patient-centric, and we believe this is the key to ensure a valuable, preventative and positive effect. With daily monitoring and continuous communication through our solutions, we enable patients to become more engaged in their own health.
With our solution we allow patients to make medical measurements at home with the knowledge that healthcare professionals follow up the results and are available for support and care along the way. It provides a safe, flexible everyday life with a higher quality of life.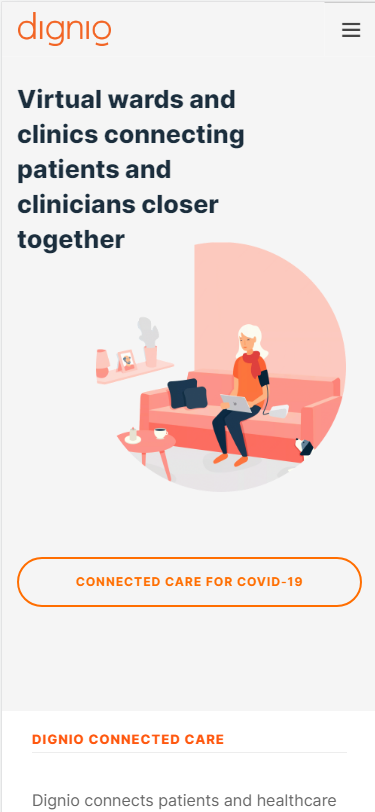 Telemedicine
The platform comes with secure video and chat communication. Our communication solution allows for easy interdisciplinary collaboration.
Remote Patient Monitoring
The platform has a wide range of measurements covering vital signs, blood glucose, weight, spirometry, hemoglobin, sleep, activity level, and NEWS2 score.
Self-reporting
Dignio offers a library of clinically validated forms, but also allow institutions to build their own standard forms or customize questions to each patient. Data can be exported for further analysis.
Self-management
Dignio offers dynamic treatment plans that can be individualized to the situation of each patient. The plan is always available for the patient on their phone or tablet.
Home Lab
A wide range of equipments for tests are integrated with the software, for example tests like white blood cells (WBC – diff), C-Reactive Protein (CRP), GFR-Renal filtration rate, long time blood glucose (HbA1c).
Stack
Team
Composition
The team of five people successfully implemented this project
Project Manager
1
Developers
3
QA&nbsp&nbsp&nbsp&nbsp&nbsp&nbsp&nbsp&nbsp&nbsp&nbsp&nbsp&nbsp&nbsp&nbsp&nbsp&nbsp&nbsp&nbsp&nbsp&nbsp&nbsp&nbsp&nbsp&nbsp&nbsp
1
Got a project in mind?
Tell us about the idea for your project and together we can develop the perfect solution for your business.
Let's do it
Got a project in mind?