Atmosfera
Business website for Construction Company to represent their brand new project - Atmosfera Apartment Complex.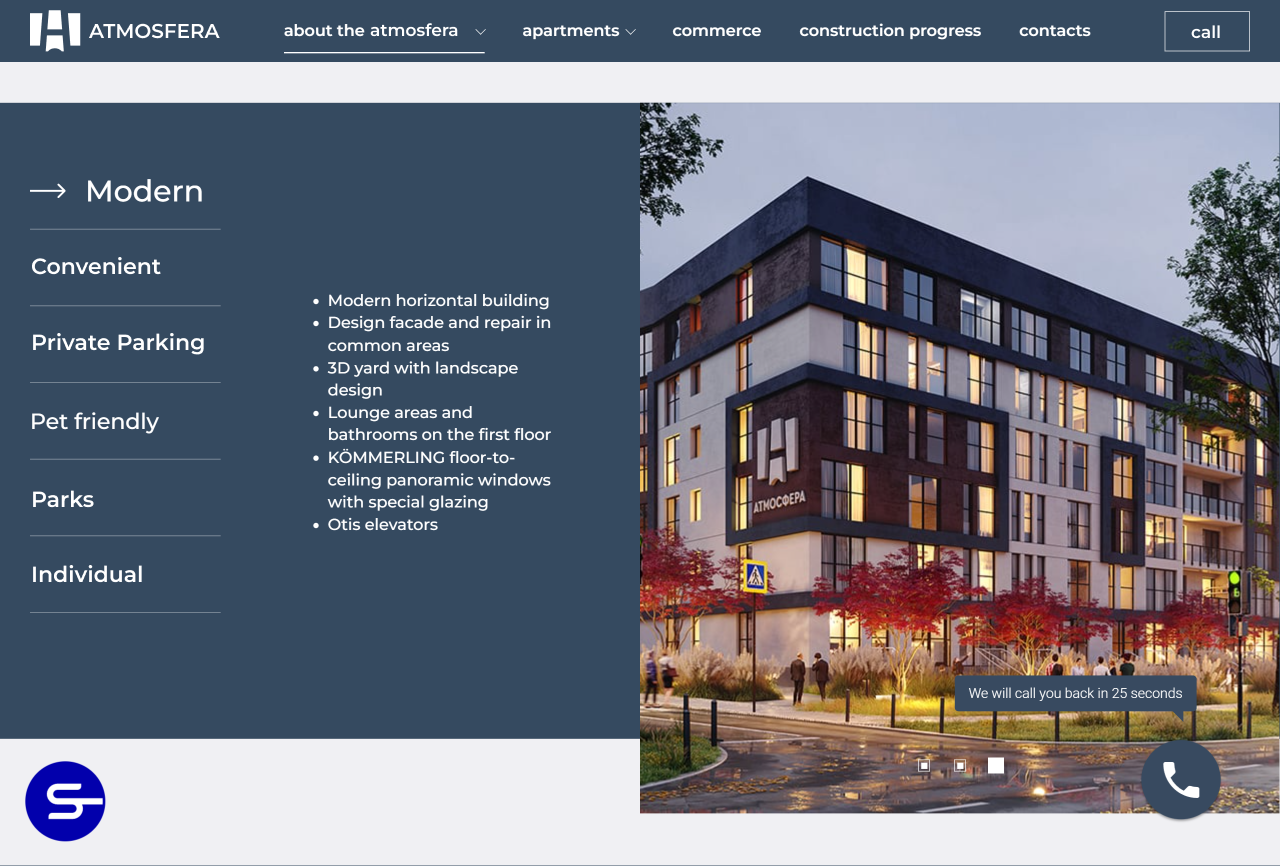 Creators
Sensar - Construction Company
Background
Atosfera is a modern and thought-out website with a big mission to draw attention to the newly developed Apartment complex and market it right.
Problem to be solved
Since purchasing real estate is a complex process and for many - life-changing decision, it is essential for the developer company to project credibility and provide a superior user experience in order to attract as many leads as possible. Especially if the company starts preselling apartments before the actual construction end. It's tons of already build apartments to choose from so why clients should pick the 'dream' and wait? That's why with this website besides the obvious marketing optimization and quality user experience we also had to win users' hearts. Showcase the future Complex in all of its beauty and provide all possibly needed information for the clients to see the full picture and make their decision.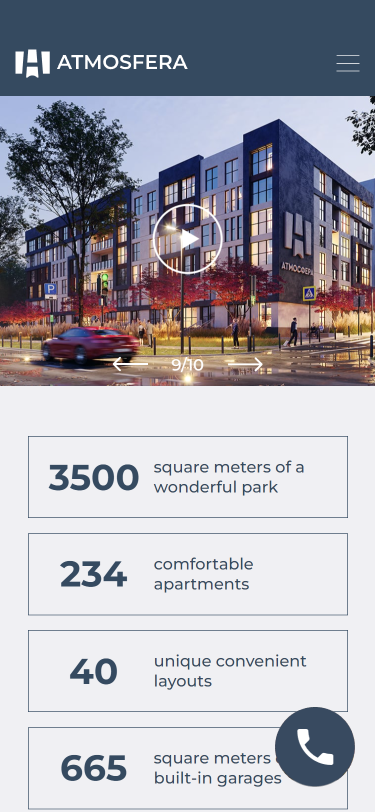 Win 1

Total Content Control
A well-designed admin interface enables quick and hassle-free content editing and marketing campaign preparation. No need for developer assistance. A solution like this helps to reduce spending on minor adjustments, addind features to optimize marketing campaigns, and onboarding of new team members to manage the system.
Win 2

Hit the market right away
Marketing strategy is on its way? No worries, Multisliders, modal windows, CTAs, and clean navigation are all small details that make it easy to apply a marketing plan. Invest your time and resources in something more beneficial for the business.
The secret to building a website that stands out and converts prospective leads into consumers is interactiveness. Focusing on that, we designed a seamless user experience where users can interact with building and apartment plans to determine the best choice for them. We also created a system where staff can submit and modify these plans for easy management.
Win 4

Heart-winning mobile version
Our research showed that 80% of traffic that the website attracts comes from mobile devices, in this case, a mobile-first approach is essential. Moving with it, we implemented a convenient and fast version with all marketing features attached.
Win 5

Target conversion growth +30%
Great website optimization, easy navigation, and exceptional user flow. Complete with components to gain consumers' trust (such as a block for video testimonials, a gallery of legal papers, a block for infrastructure visualization, and more) as well as to obviate any mistakes on the road to submitting the request and increase conversion rates.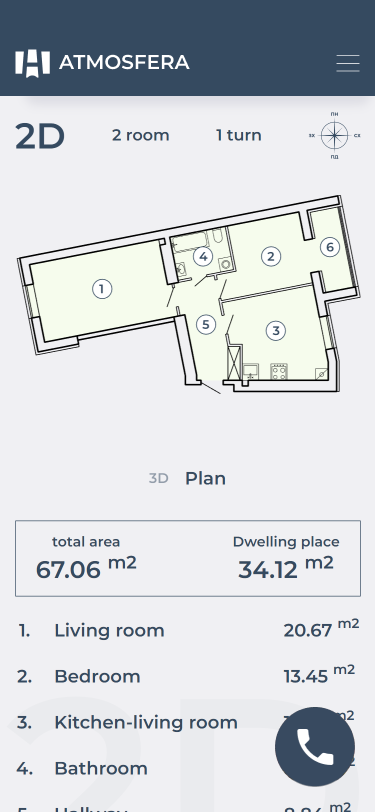 1. Duolanguage
The website is available in English and Ukrainian to scale the target audience and SEO purposes.
2. Multislider
We developed Multislider to make marketing campaigns launch much simpler. It enables management of this system in accordance with the current plan and allows for the insertion of banners, extra text, and buttons with links.
3. Interactive appartment plans
Complex solution to display the precise building and apartment plans with consideration for navigation and personnel system administration. Users may view the layout of every sector, floor, and apartment as well as which ones are booked or already sold. As an employee, you have the ability to submit fresh plans, edit them, add badges to indicate status, and link apartment plans to certain floors, sectors, and buildings as a whole.
4. Infrastructure visualization
Convenient maps integration showing the area and infrastructure for potential buyers to see where the Residential Complex is located and determine whether it is comfortable.
5. 3D view galery
Available in every apartment listing to demonstrate the plan and how it could look when decorated.
6. Appartment booking
Users can book the apartments and schedule a review and consultation with the managers.
7. Integrations
Integrations are an excellent way to boost users' and company owner's level of convenience on the website. Therefore, we integrated LiveChat, Kommo (AMO) CRM, Phonet, and YouTube and Facebook for videos, Analytics for monitoring and future strategy planning, Email for the system of reminders and workers to control the flow, and more.
8. Live Cameras Connected
Tool to engage with the customers and win their trust. 24/7 Live Cameras access to demonstrate the constriction site and overall progress of building the Residential Complex.
Stack
For this project we chose:
Team
Composition
Experts working on the project:
Business Analyst
1
Project Manager
1
Developers
3
QA&nbsp&nbsp&nbsp&nbsp&nbsp&nbsp&nbsp&nbsp&nbsp&nbsp&nbsp&nbsp&nbsp&nbsp&nbsp&nbsp&nbsp&nbsp&nbsp&nbsp&nbsp&nbsp&nbsp&nbsp&nbsp
2
Designer
1
Got a project in mind?
Tell us about the idea for your project and together we can develop the perfect solution for your business.
Let's do it
Got a project in mind?