Perfect Scaling. Or how to plan the scale and stand out in 2020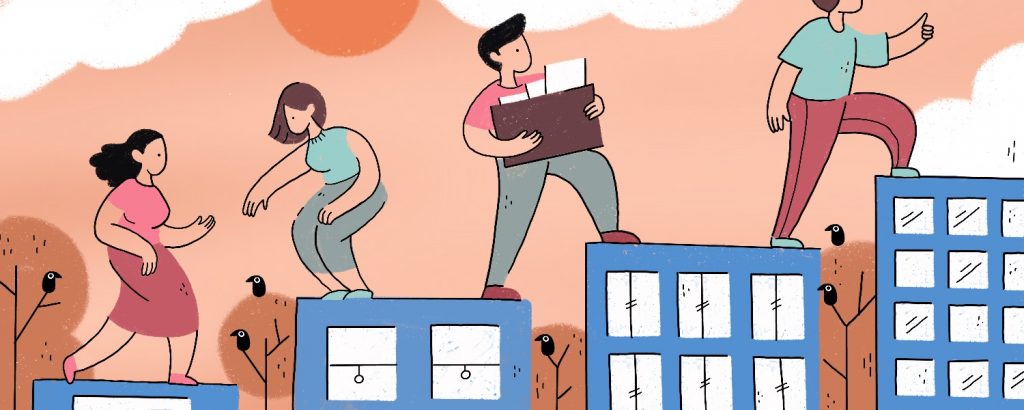 The great and thought out platforms we all love weren't born in a day and not even in a year! Sometimes it takes a lot of effort to find the 'key' to the target audience. Yet the proper planning and estimation can ease this way moving from the startup to the big successful business.
Competition nowadays is harsh and entrepreneurs must do everything they can in order to achieve this success. The popularity and even narrow unique market for the product are great on the initial stage, but the scaling strategy for the business is what differentiates a small business/startup from big profitable organizations.
Scaling VS Growth

In the modern business sphere there a lot of confusion between these two terms so let's sort this out first! Usually, we think of growth in linear terms: the company gains new resources (benefit, employees, tech), and revenue increases as a result.

But scaling is focused on the revenue increase without a substantial increase in resources. By optimizing the resources that exist and polishing the workflow + concept.

It's easier to define this difference when business becomes slightly bigger than a startup yet not the big company. At this stage, it's essential to decide between growing at a regular rate or switching over to faster company scaling.In simpler words, scalability describes the capability of a business to perform well under the pressure and expanding workload. Scaling a business means to have an effective way to increase its performance even when testing it with larger outcomes requirements.
In the business context, scalability = ability of the business to grow and not being limited or troubled by resources when the workflow and lead flow becomes bigger. Modern technology allowing the idea of scalability to become more accepted in the markets expanding them.
How to define the right time to scale?
There is no clear recipe on how you can define that perfect time to scale. However, there are simple indicators to when it would be smarter to make a step up with your business:
— Workflow is stable but it becomes harder for employees to handle because of the high load.
— When long-term business goals become unachievable.
— Lead generation efficiency continues to increase.
— When your numbers say you're good to go.
In addition here are the simple questions to ask yourself to see if you're ready for the next steps:
— What your clients actually want?
— Is there enough demand for your product or service?
— What are the weak and strong spots in the workflow?
— Do you have your finances in order?
— What current trends and events you can benefit from?
— Do you have the right team in place?

If you're turning down business opportunities simply because your team cannot afford extra work, that is an ideal indicator that it's time to scale your business.

Tips on scaling planning

Commit to grow
Sounds pretty obvious, but entrepreneurs need to want their business to grow. It's okay to not have the huge ambition 'to change the world' more important is realistic growth targets and develop plans and concrete actions of how this growth will be achieved.
Get back to the analysis
Take a look back inside your business to see if you are ready for growth and the custom way to do it. This step can be divided into smaller ones:
— Identify your core competitors
Without knowing your competition it's difficult to create an efficient strategy.
It's a great step to define or come up with the ways to stand out. In other words, Articulate your competitive strengths.
— Analyze what your customer wants
The first step, define the perfect target audience. With simple questions as – Who is your customer?/What do they do?/Why are they buying?/When are they buying?/What's their income?/ What do they think about your competitors?/What do they expect from you?
These key points will allow understanding what your customer really wants. And move forward perfecting the product the way the customers want to see it.
Standardize the workflow
Mushy processes can be a big enemy of growth. If the business is going to scale, managers need to implement standardized and repeatable processes, with proper delegation. This may require investments for convenient third party services and integrations but everything should work smoothly and efficiently.
Polish for the buyers
Once you've identified your ideal customers and their needs, optimize how you market and sell to them. Ask them for feedback, try A/B testing, regularly check your initial lead source on Google Analytics.
Automate what you can
Automation allows you to run repeatable processes smoothly at a lower cost and more efficiently by minimizing your manual work. It allows entrepreneurs to improve the delivery time of any task. It further reduces the risk of human error as well as saves a lot of time. However, automation doesn't necessarily mean integrating a mechanical system into the process and laying off employees.

For example, you can use the AI chat on your site to answer the common questions, etc.
Secure your Sales
Is your system fully in place? Analyze the lead sources and sales flow that you currently use, billing system.

Visualize the polished product/Outline the idea
After analyzing all the aspects and client feedback you can easily see the weak points and outline the way to scale. Will be the polishing the website/ new products launch/ adding new convenient feature set or simply working on the user flow. For you to decide!

Strategical Outsource
Last but not least, automation the processes is nice but for updating and polishing you'll still need the experts for support. At the scaling stage, it's important to plan out if your 'in house' efforts will be enough to implement the vision or it will be more efficient to find a reliable partner to handle the changes and support. Trying to replicate that function internally may take too much time or money.

OUTLINE
Scaling is always a lot of work to do but the payback is worth it. Every entrepreneur tends to face various challenges along their journey but it's wise to take preventative measures. With appropriate planning, right team members and a mindset to advance forward, you will scale your business with little to no trouble at all.